Truly enthralling, Reach Falls is a hidden gem that beckons adventurous souls. This is one of Jamaica's most captivating waterfalls, and here you can immerse yourself in the lush beauty of this island and experience a deep sense of rejuvenation. You'll find yourself feeling quite free in this space. This is only natural, considering its history — this waterfall is said to have been unearthed by runaway slaves on a quest for liberation.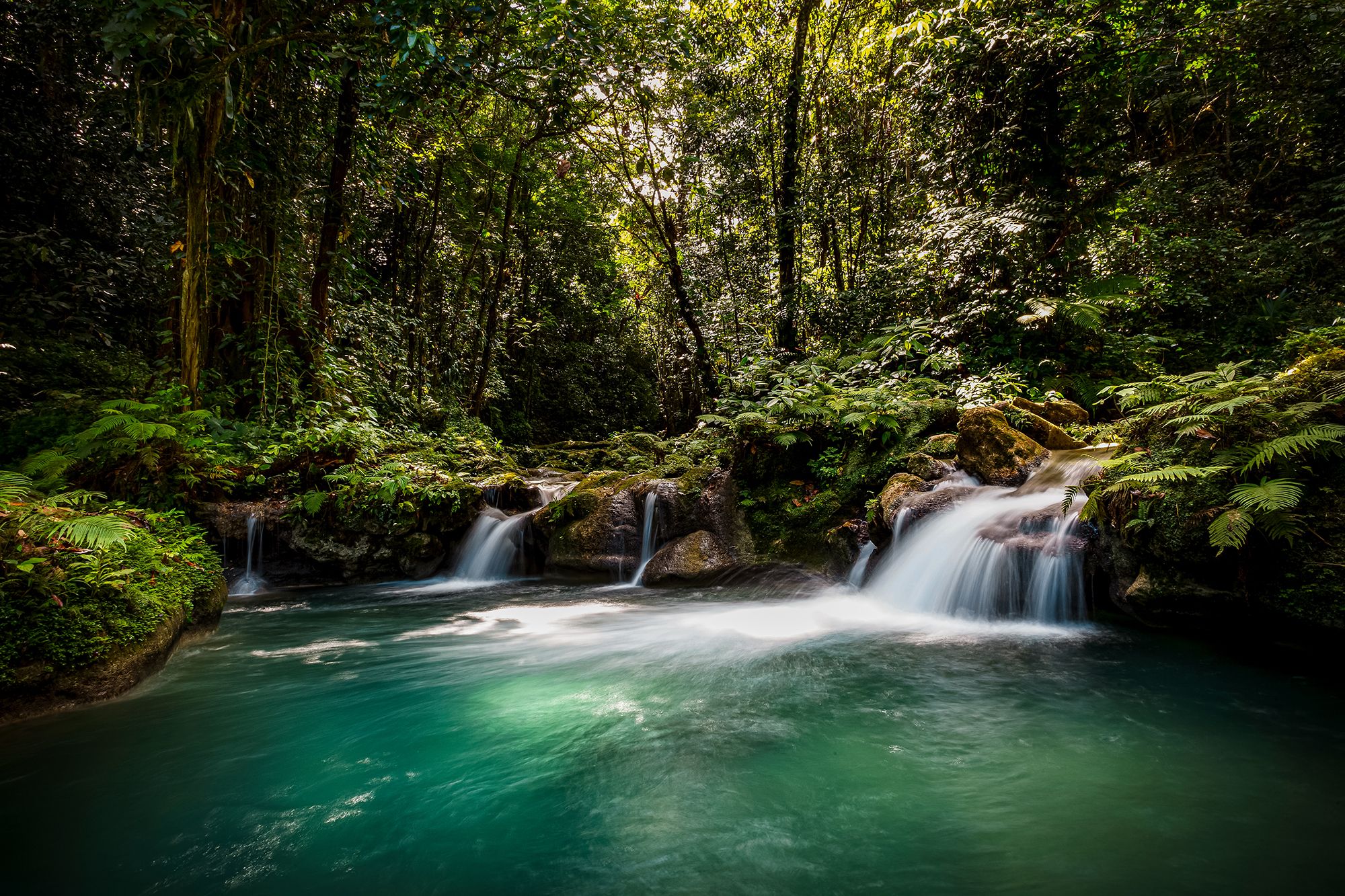 Image credit: Jeronimo Vilaplana/Shutterstock.com

Reach Falls is located in the eastern part of Jamaica about an hour from Port Antonio. This waterfall can be found within the Montane Forest of the John Crow Mountain Range. Reach Falls is most loved for its breathtaking cascades and inviting natural pools. Other than the stunning waterfalls and natural pools, if you decide to visit Reach Falls while in Jamaica you can expect to find fascinating views, scenic hiking trails, nearby underground caves that you can explore, picnic areas, and more.
With so much to look forward to, we've taken the time to list the best ways to maximize your visit to Reach Falls during your vacation!

Expert tip:
 If you're interested in learning more about the history of Reach Falls, this attraction may be best explored with a tour guide. An experienced tour guide will be able to share details about the history of the falls and other interesting facts about Jamaica as well.
Things to do at Reach Falls Enjoy the sights of the waterfall
How wondrous it must have felt all those decades ago for people to have stumbled upon such a refreshing natural waterfall when they probably needed it most. The sight of Reach Falls is as welcome now as it was back then! Most people who arrive at Reach Falls today cannot wait to lay their eyes on the cascades, and even more, cool off in the refreshing waters.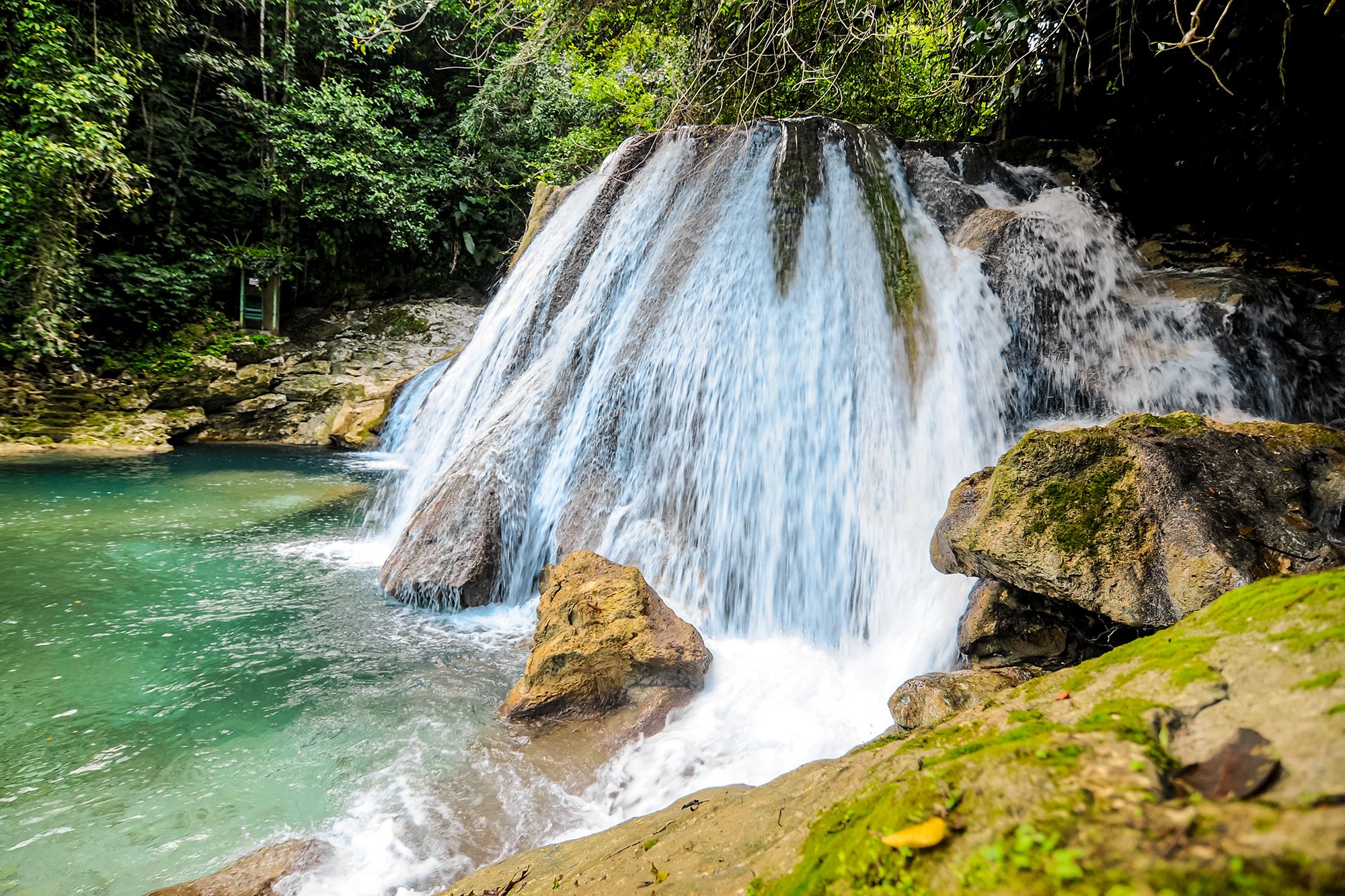 Image credit: Marlon Trottmann/Shutterstock.com
One of the things locals and visitors love to do at Reach Falls is admire the way the water streams with great power over the rock face. The distance from the top of the falls to the emerald pool below is around 33 feet (10 meters). The cascades and waterfalls (there are smaller waterfalls as well) at Reach Falls vary in size and the natural pool is super refreshing. Be sure to come prepared to get wet as dipping into the pool is hard to resist!
If you'd prefer to just enjoy the sights as opposed to getting wet, there are many areas where you can sit with amazing views. This includes a picnic area at the base of the falls. You can choose to go to this area at the bottom of the falls before or after you explore the falls themselves. Whatever you decide to do, spend as much time as possible just taking in the natural beauty of this attraction.
Walk the river to the Rabbit Hole
A trip to Reach Falls provides an opportunity to visit the nearby Rabbit Hole. This is a swimming hole that can only be accessed by jumping off one of Reach Fall's rock cavities. As part of your Reach Falls adventure, your tour guide will take you up Driver's River to the top of the cascades. This river feeds the waterfall and this is how you'll get to Rabbit Hole. Along the way, you can stop if you wish to take a dip or swim all the way to the top. You can also choose to take the dry path and hold off on swimming until you get to the Rabbit Hole.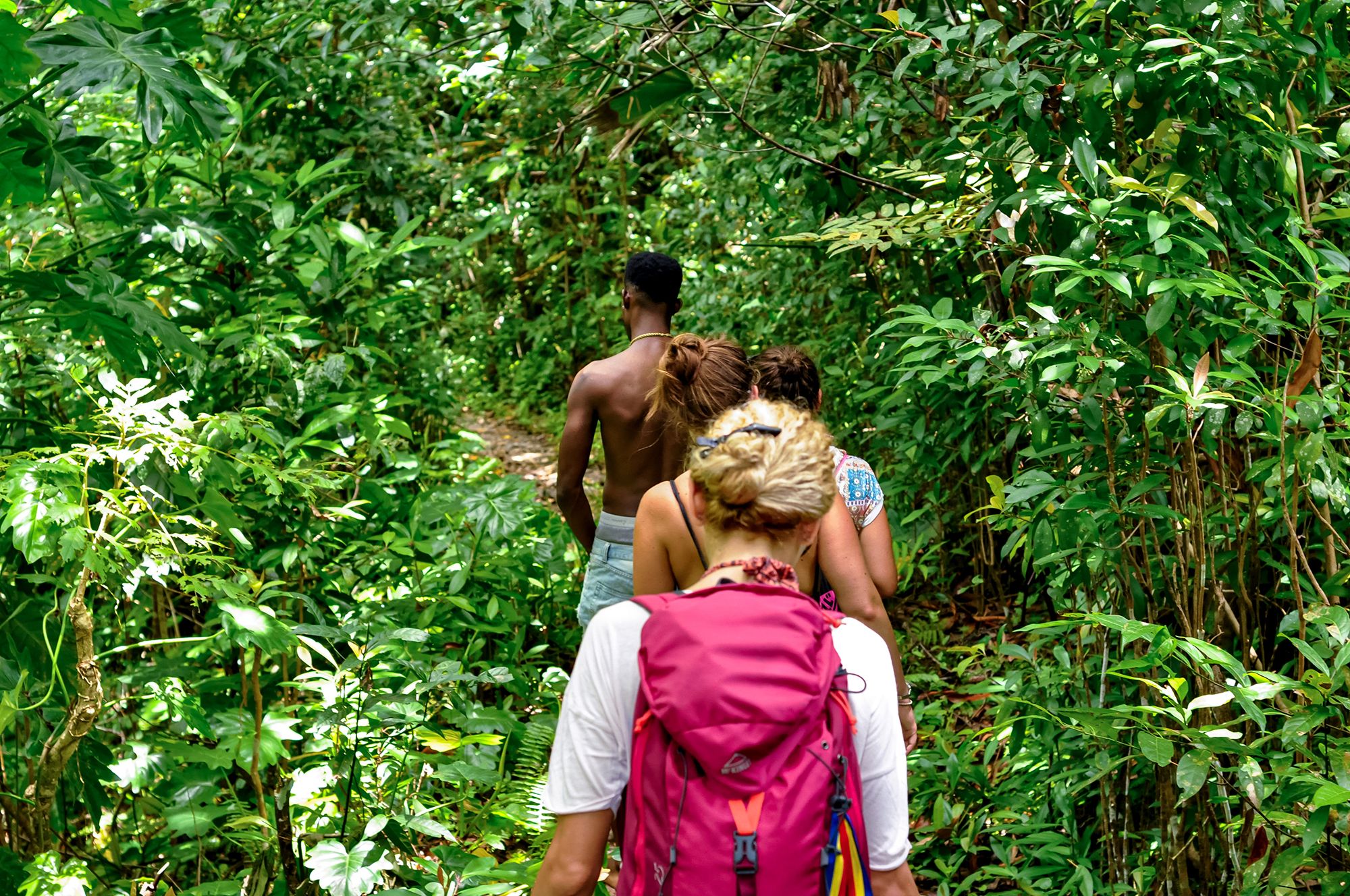 Image credit: Globetrotter Museum/Shutterstock.com
Jumping off the rock cavity and into a gaping hole will take some level of bravery. As you free-fall down the waterfall, you'll land in a flooded underground cave. Tour guides are included in the cost that you'll pay to access Reach Falls, and yours can show you how best to access the swimming hole. Once you arrive at the Rabbit Hole, you'll notice that there's an open-air gorge.
When you're ready to continue your exploration, you can make your way back to the main waterfall area. However, exiting the swimming hole requires a unique and exciting maneuver—you'll need to dive through an underwater pool. You can make your way back to the main waterfall area via this underwater path. Proceed with caution. If you're not a confident swimmer then you probably shouldn't try this. Seek guidance from your tour guide before you make an attempt.

Good to know: The jump into the underwater cave is not suitable for young children as the water is a bit deep. Children or guests who do not want to jump can still go on the river walk.
Take a dip in a natural heart-shaped jacuzzi
When you throw in things like a heart-shaped jacuzzi, then you begin to see more clearly why Reach Falls is so popular. There are many natural 'jacuzzi' pools at these falls and most of them are quite shallow. The naturally heart-shaped one is quite popular with visitors, especially couples. As you lounge in these natural pools, you'll really feel like you're in a hot tub with streams of rushing water making for the finest tropical massage. There are few, if any, spas where you'll be able to get such a treatment complemented by the amazing views Reach Falls has to offer. To that end, this is something you'll definitely want to make the most of!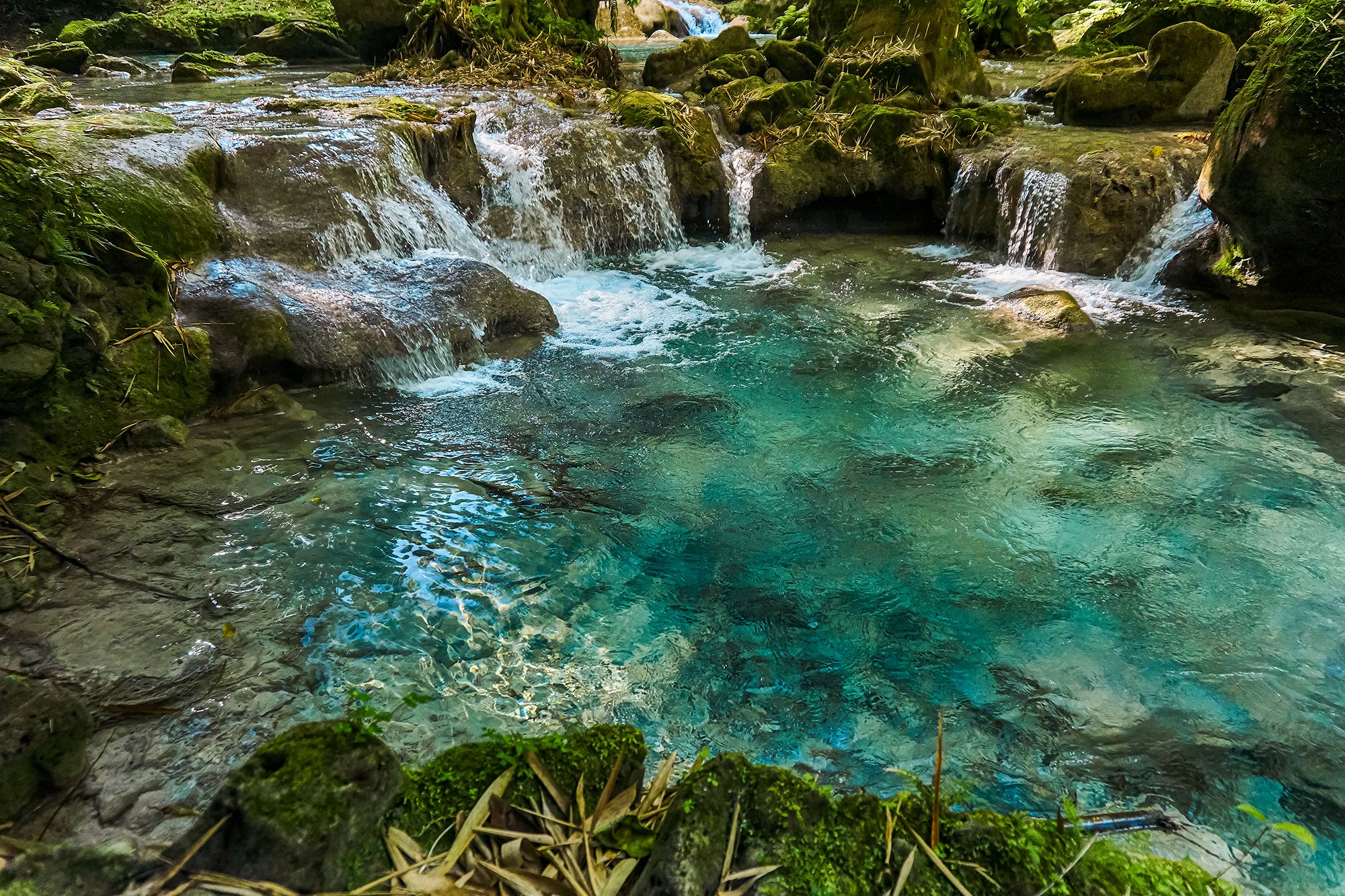 Image credit: Superlenny/Shutterstock.com
Expert tip:
 At Reach Falls, you can choose either to spend some time in natural jacuzzis, relax beneath the falls as the water pummels down, or both. Either option will grant you the most amazing and unforgettable experience!
Spot the different species of ferns and birds
The waterfalls aren't the only fascinating sight you'll come across at Reach Falls. At this tropical oasis, you'll be able to engage in some bird watching during which you can expect to see a wide variety of birds as well as spot unique ferns (over 23 species). The ferns are located in areas surrounding the falls and it can be interesting to see which ones you recognize. This activity is ideal for nature lovers, but just about everyone will be able to appreciate the beauty that is found in the little things at Reach Falls.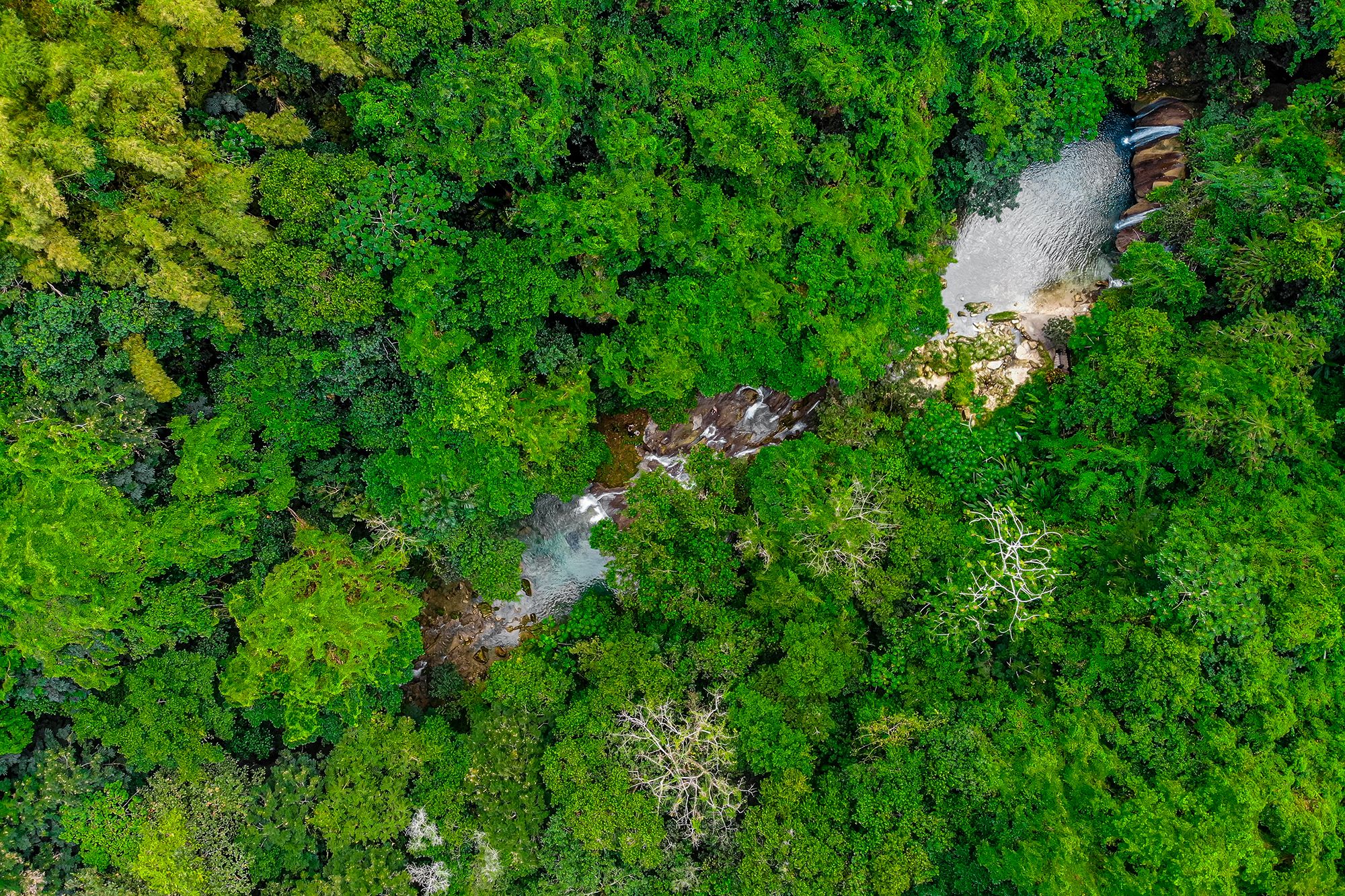 Image credit: Jonas_Maiwald/Shutterstock.com
Expert tip:
 When bird watching at Reach Falls, you're going to want to keep an eye on the trees as this is where you can often spot a variety of species including black parrots and yellow-billed parrots. Wild pigs are also often spotted in the forest surrounding Reach Falls.
What to expect when you get to Reach Falls
To help you plan your tour at Reach Falls, keep in mind that this attraction is open from Wednesday to Sunday and is closed on Mondays and Tuesdays weekly. To access this waterfall, you'll first need to pay an entrance fee. This ranges from $5 USD for children aged 4-12, and $10 USD for anyone age 12. Children 3 and under do not have to pay an entrance fee. Reach Falls operates between the hours of 8:30 am to 4:30 pm.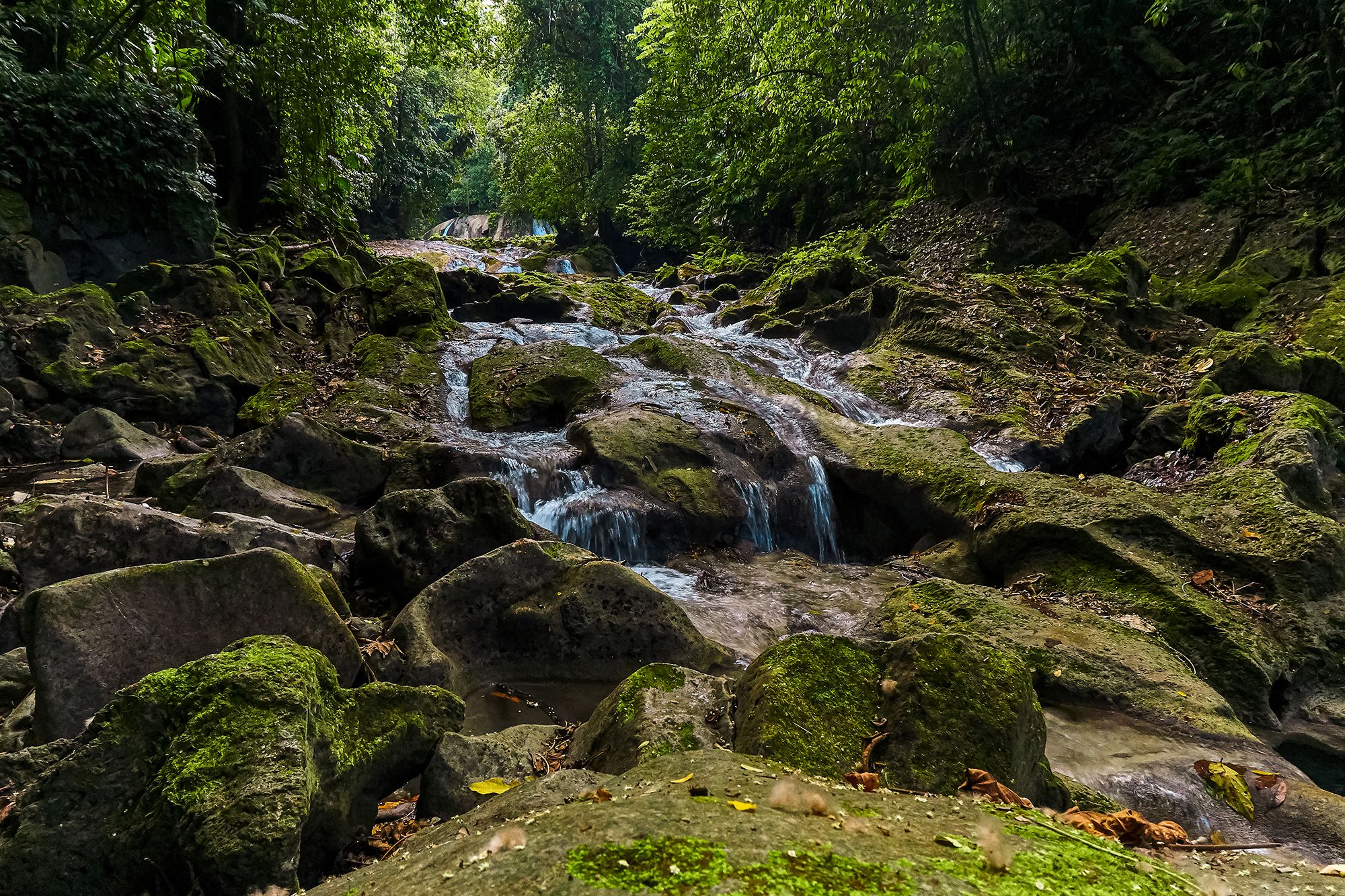 Image credit: Superlenny/Shutterstock.com
Most of the time, if you book a tour at Reach Falls, the entrance fee is included in the price you pay. Your entrance fee provides full access to the facilities including changing rooms and bathrooms — you can ask a guide to point you in the right direction of these. Once you arrive and change into your swimming gear, you can decide how you'd like to begin your tour. A popular option is checking out the waterfalls first. Many people choose to do this, then go to the natural pools to relax afterward. Once you're done with your tour, you'll be able to find places to buy food and drinks on-site.

Good to know: The food and drinks hut at Reach Falls does not always open at the same hours as the rest of the park. For this reason, you might want to walk with drinks and some light snacks just in case.
Getting to Reach Falls
It won't be hard to arrange a tour to explore Reach Falls in Jamaica. There are a few different tour companies that you can choose from to go to this waterfall. Some tours do single stops while others have combination packages that will allow you to experience more than one attraction on the same day. Arranging a tour can save you from having to drive yourself to the falls.
Some people do prefer getting their own car rental and driving to Reach Falls. This waterfall is a bit off-the-beaten-path so if you choose to drive here, you'll definitely want to get your bearings straight before you go. Another option will be just hiring a taxi from your hotel or resort that can quickly get you to this location. Reach Falls is about 1 hour by car from Port Antonio, and around 1 hour and 30 minutes by car from Ocho Rios.
What to take with you to Reach Falls
• Swimwear and a towel – You can either wear your swimsuit beneath your clothes or change once you get to the waterfall. Changing rooms are available on-site. It's a good idea to bring along an extra set of dry clothing for yourself (and your kids if they'll be coming with you).
• Water shoes – Waterfalls tend to be a bit slippery, so water shoes are essential. If you don't have your own water shoes, you can always purchase some once you get there. Keep in mind that purchasing these at the venue is likely to be more costly.
• Insect repellent – Bug repellant is a must when heading on tours, especially to places like Reach Falls where there is dense surrounding forest.
• Water – As Jamaica generally has a hot climate, it is very important to stay hydrated. Bring enough water for yourself and ensure your children have some as well.
• Waterproof camera – A waterfall is one of those places where a waterproof camera can come in handy. You can take lots of pictures without the fear of damaging your camera. Capture the jump down the Rabbit Hole on video!
Reach Falls Jamaica perfect for families
A sight for sore eyes, indeed! Reach Falls is hands down one of the best waterfalls in Jamaica. From natural jacuzzis to jumping into Rabbit Holes, a visit to Reach Falls isn't something you'll want to miss out on in Jamaica. Going to this waterfall can be a great family trip whether you choose to do this as a stand-alone tour or a combination tour that includes other popular attractions in this area.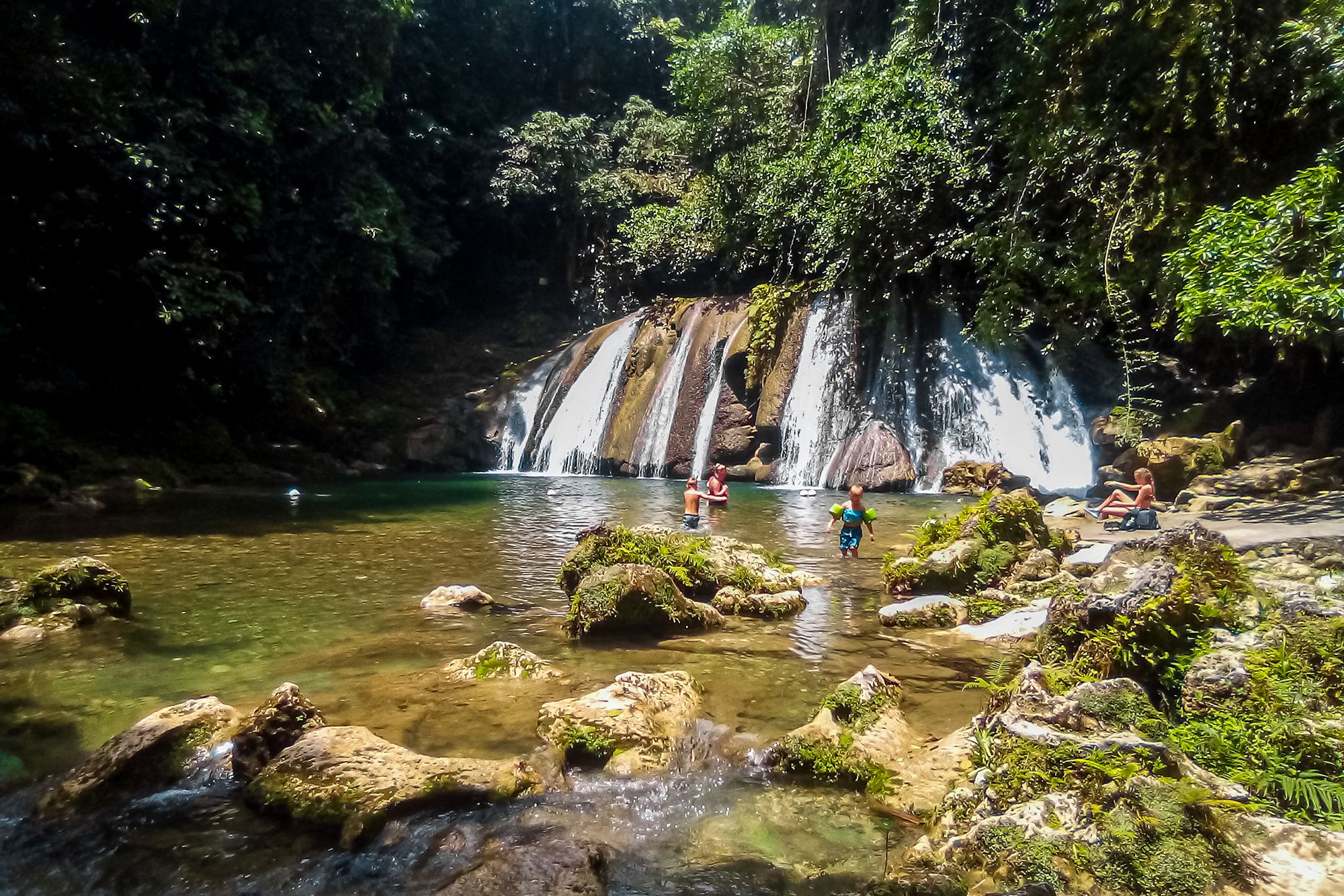 Image credit: Nature In Portland/Shutterstock.com
There are lots of wonderful Jamaica resorts for families that you can stay at during your trip including resorts in Negril and Ocho Rios resorts. Beaches Resorts can be ideal for a family vacation that includes lots of exploration, plus the resort has tons of family-centric inclusions. Luxury accommodations, multiple world-class restaurants, day and night entertainment, unlimited land and water sports, a water park, kids camps, professional nannies, and so much more are available at Beaches! From Beaches Ocho Rios, Reach Falls will be just an hour and 30 minutes away by car which means you can get into the action in no time!