A spectacular show of color across the sky, sunsets are truly magnetic. No matter which part of the globe you live in or where you might be at the moment, the anticipation remains. Granted, there are some parts of the world where sunsets seem to have an extra special touch. Places like The Maldives, Greece, and the Caribbean come to mind. The Caribbean stands out among these destinations with the possibility of viewing an amazing sunset from the breezy vantage of a gorgeous beach.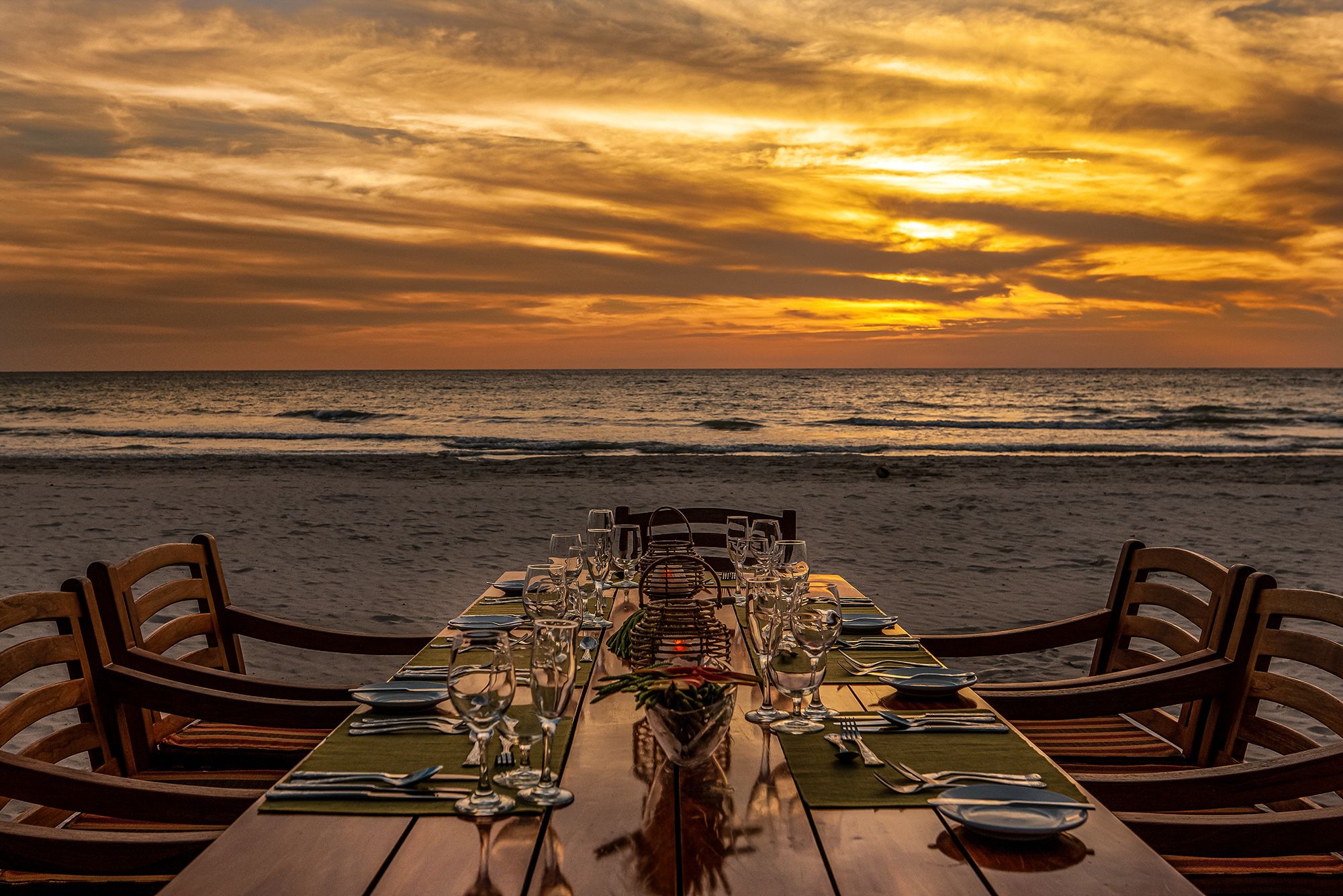 Jamaica's sunsets are among the best in the Caribbean. There are so many incredible places to watch the sunset in Jamaica that we've taken the time to share some details about them in this post. Whether you're looking for a romantic destination, or somewhere fun to watch this fiery end-of-day spectacle with kids, this blog has got you covered!
Best locations for incredible Jamaica sunsets
From the picturesque town of Negril to the enchanting vistas of the Caribbean Sea, Jamaica offers a plethora of options for capturing the mesmerizing colors of the evening sky. We'll explore the best places to watch the sunset in Negril, the unofficial sunset-watching capital of Jamaica. If you'll be staying outside of Negril, read on to discover how a sunset cruise excursion can also allow you to experience the splendor of Jamaica's sunsets from the serene waters of the Caribbean.
Best places to watch the sunset in Negril, Jamaica
Your hunt for the perfect Jamaica sunset can begin in Negril on the western tip of Jamaica. This part of the island is known for its incredible sunset views, particularly the south side of Negril. A Negril sunset can be best enjoyed after spending the day on one of the beautiful beaches in this town, or just after enjoying the thrill of your resort's water park. If your kids are old enough to still be up by the time the sun goes down, then these are the best places to watch the sunset in Negril:
Rick's Café
There's a lot of hype around Rick's Café in Jamaica and there are a few reasons for this. For starters, this cliffside restaurant and bar has some of the best views in Jamaica. Added to that, the food and drinks are always flowing and this is a great spot to go cliff jumping in Jamaica as well. As Rick's Café was the first restaurant of its type in this area, it has gained significant popularity over the years.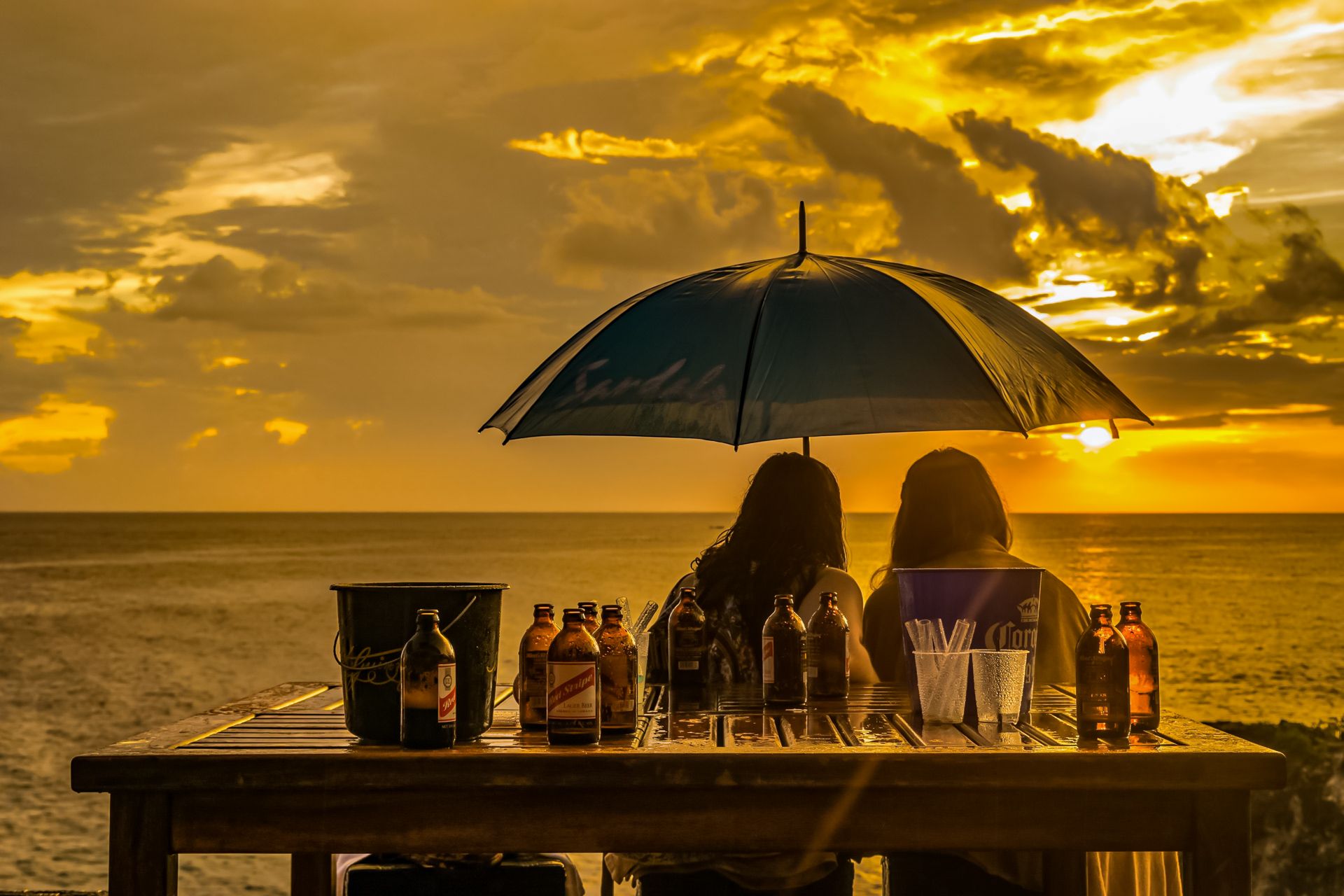 Image credit: Debbie Ann Powell/Shutterstock.com
If you're brave enough, you can go cliff jumping at Rick's Café then settle in for an amazing sunset. If you don't necessarily want to cliff dive, you can just go with your family to take in some of the excitement and stick around for nature's sundown show. Sunsets at Rick's Café are best enjoyed with something cold in hand, like a cocktail, an icy local drink, or a Jamaica Red Stripe Beer. It'll be quite the thrill to see the sunset over the Negril cliff tops resulting in the most amazing burst of colors — this is a sure way to experience true Jamaican warmth.
Expert tip:

Expert tip:
 If you want to get a good spot at Rick's Café to watch the sunset, you'll need to get there early as the tables tend to fill up quickly.
Bloody Bay
A lesser-known fact is that the stretch of sand where Seven Mile Beach Negril is located is directly connected to Bloody Bay Beach in Jamaica. The first four miles of this beach are part of Seven Mile Beach, while the remaining three miles are attributed to Bloody Bay. Bloody Bay Beach is located at the central west point of the island of Jamaica and it is one of the best places to go for a family beach day.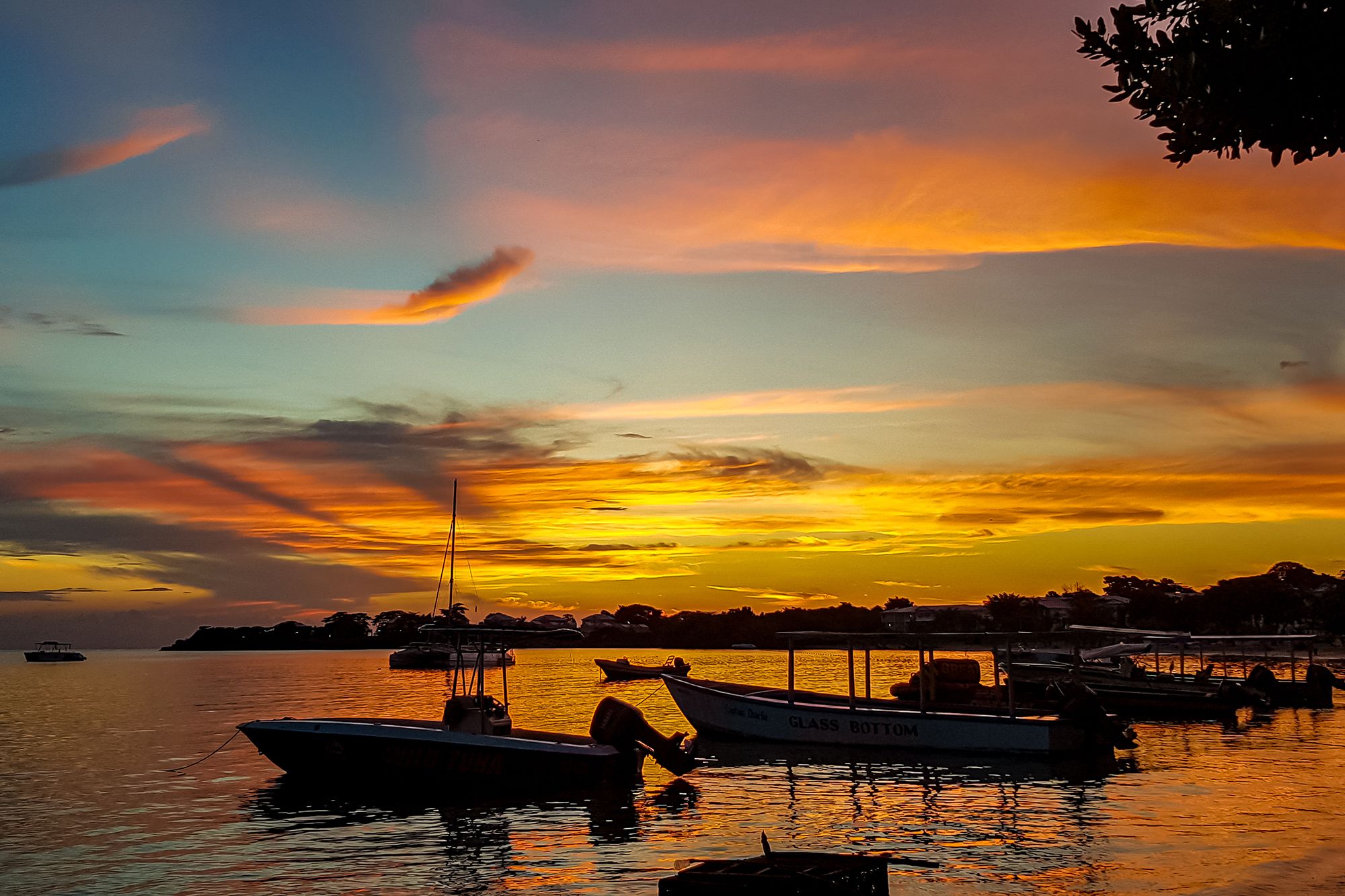 Image credit: Debbie Ann Powell/Shutterstock.com
At Bloody Bay, not only will you be able to spend some time by the ocean, engaging in water sports and sunbathing, but you will also be in just the right place to witness the most spectacular Jamaican sunset. Bloody Bay Beach is quite spacious, which means there will be enough room for everyone to enjoy the sunset comfortably. This is much unlike some of the more popular beaches on this island where you may just have to scramble for the spots with the best views. Bloody Bay Beach is close to some of Jamaica's best resorts, so you'll have lots of options for accommodations if you want to be close to the action.

Expert tip:
 Bloody Bay Beach has crystal clear waters, white sand and is close to some of the best beachside restaurants in Jamaica. You can plan your sunset-watching trip here close to dinnertime, and then 
dine right on the beachfront
 after the sun goes down.
Beaches Negril
All-inclusive resorts are a great option for families in Jamaica. These resorts are a hub of convenience and fun as there are so many activities kids and parents can enjoy, with loads of food options as well. Beaches Negril is an incredible all-inclusive option that kids and parents will love. This resort is located on the famous Seven Mile Beach not too far from Bloody Bay on the western side of Negril.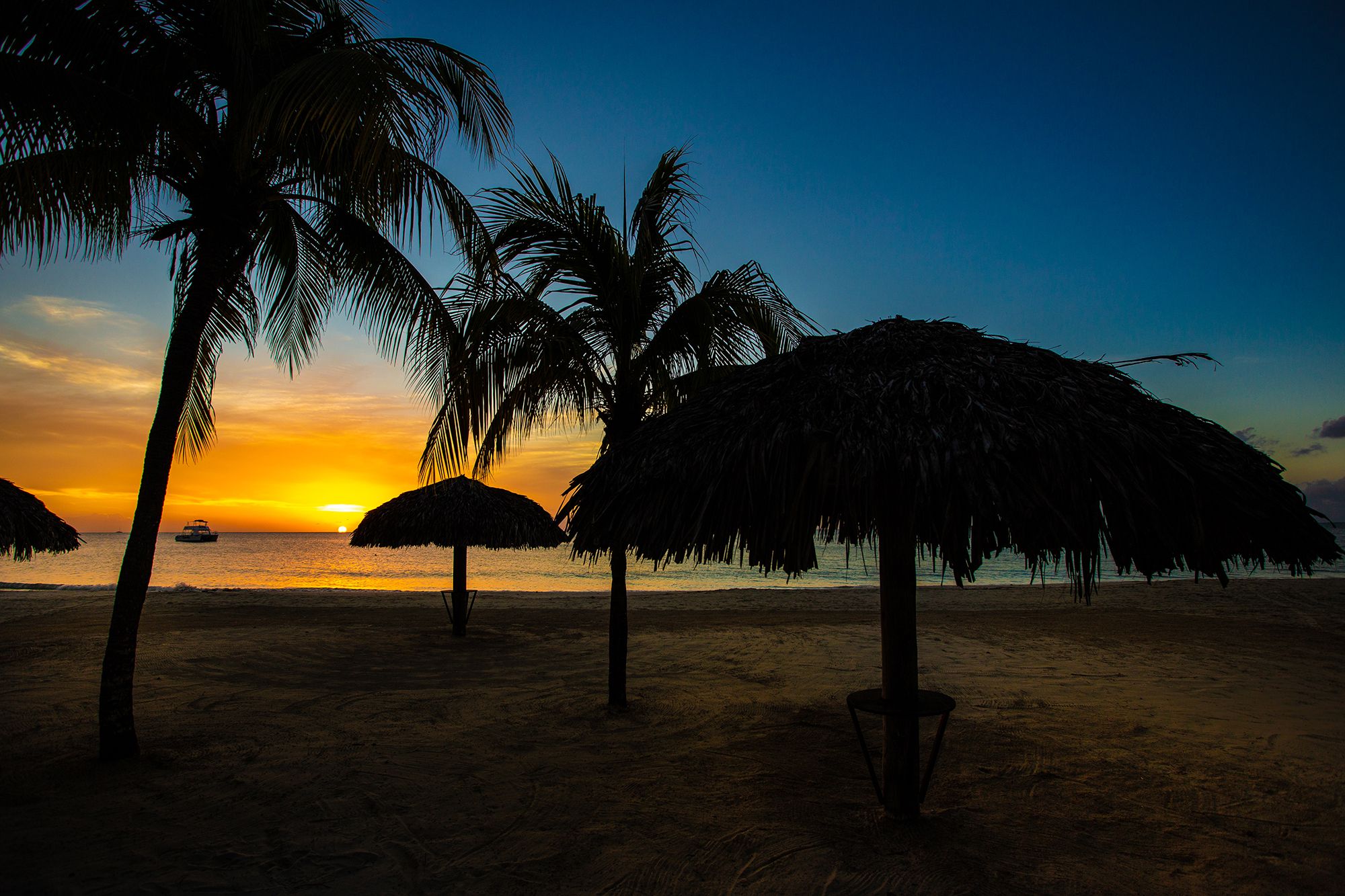 If you stay at Beaches Negril while in Jamaica, you won't have to venture too far from your room to watch the sunset. In fact, from some room and suite options like the beachfront selections, you can watch the sunset right from your patio. Or, if you happen to be dining at one of the resort's delectable dining options around sunset, you can simply take a short walk to a location of your choice for this experience. If you choose to watch the sunset from this resort's beach, you won't have to worry about it being too crowded as this part of the beach is used primarily by guests of Beaches Negril.

Good to know: If you will be on vacation with family in Jamaica, the possibility of a sunset show will give kids a chance to enjoy a little after-dinner action without leaving the resort. Afterward, you'll easily be able to make your way back to your room to settle the kids in for bedtime!
Sandals Negril
There's nothing quite like a couple's getaway that is well-orchestrated enough to make it seem like you and your love are the only ones at a romantic island resort. This is the sort of experience you can look forward to at Sandals Negril in Jamaica. This resort has a host of quality inclusions for couples and one of the best things about it is that it is located right next to the beach. Sandals Negril's beachside location equates to amazing views, particularly around sunset.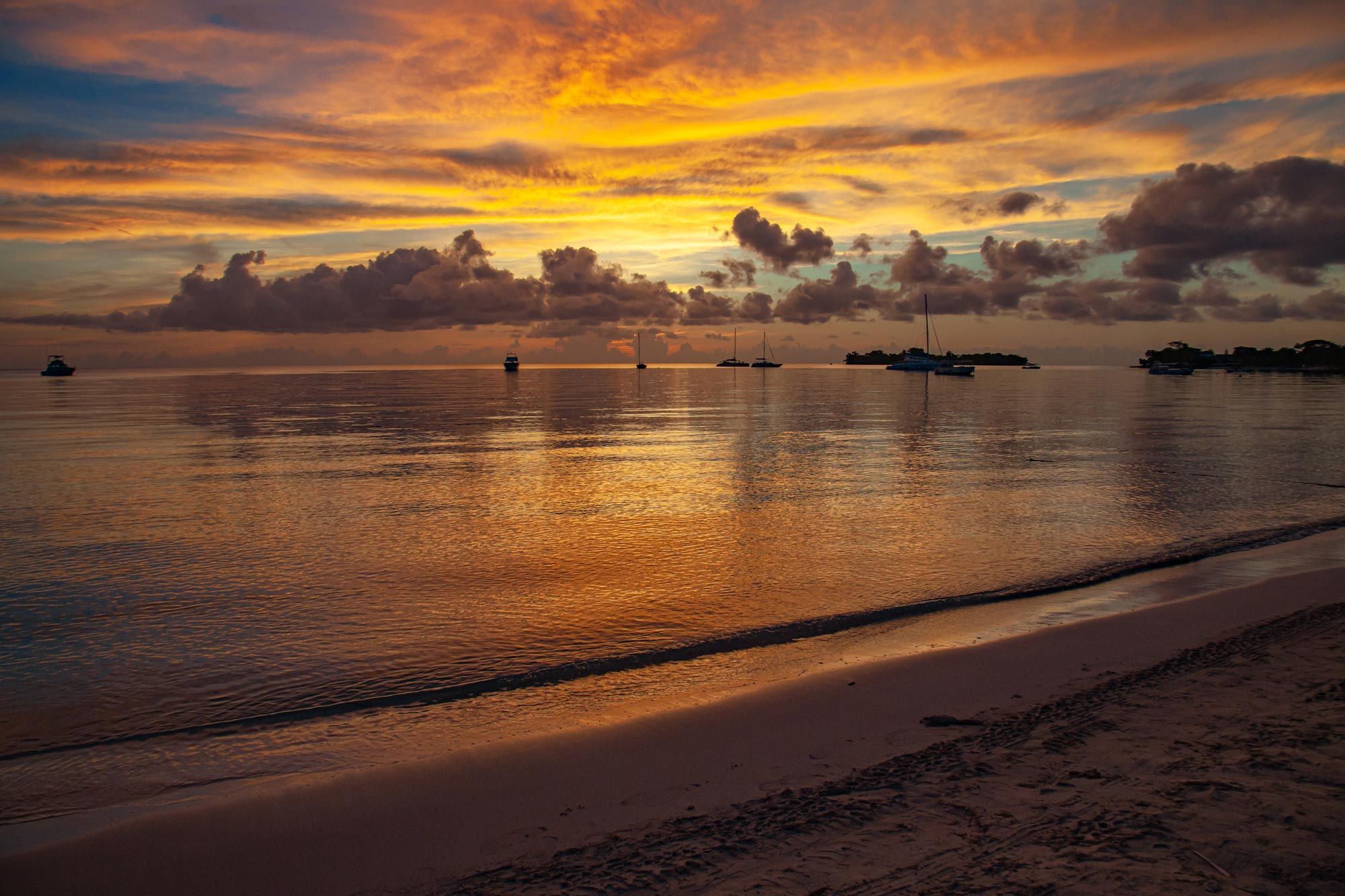 Located on Seven Mile Beach, there are many cozy corners within the Sandals Negril resort where couples will be able to settle in for a peaceful sunset moment. These locations are so convenient and comfortable that while you're in them, it becomes apparent that Sandals Resorts really did design its Jamaica resorts with the phenomenal sunsets in mind. Few words will be needed, just perhaps a glass of something bubbly, and some choice appetizers. Better yet if you happen to be taking a blissful stroll on the beach through the soft white sands as the sun goes down on an absolutely magical day.
Best places to watch the sunset in northern Jamaica Runaway Bay
Witnessing a perfect sunset requires being in the right place at the right time. Runaway Bay on the north side of Jamaica can be the right place depending on where in Jamaica you'll be staying. The uniqueness of the Runaway Bay sunset experience lies in the fact that, depending on your vantage, you just might be watching the sunset from this location over the buildings in the area, which changes the dynamic a bit. This type of sunset view is not as common in Jamaica.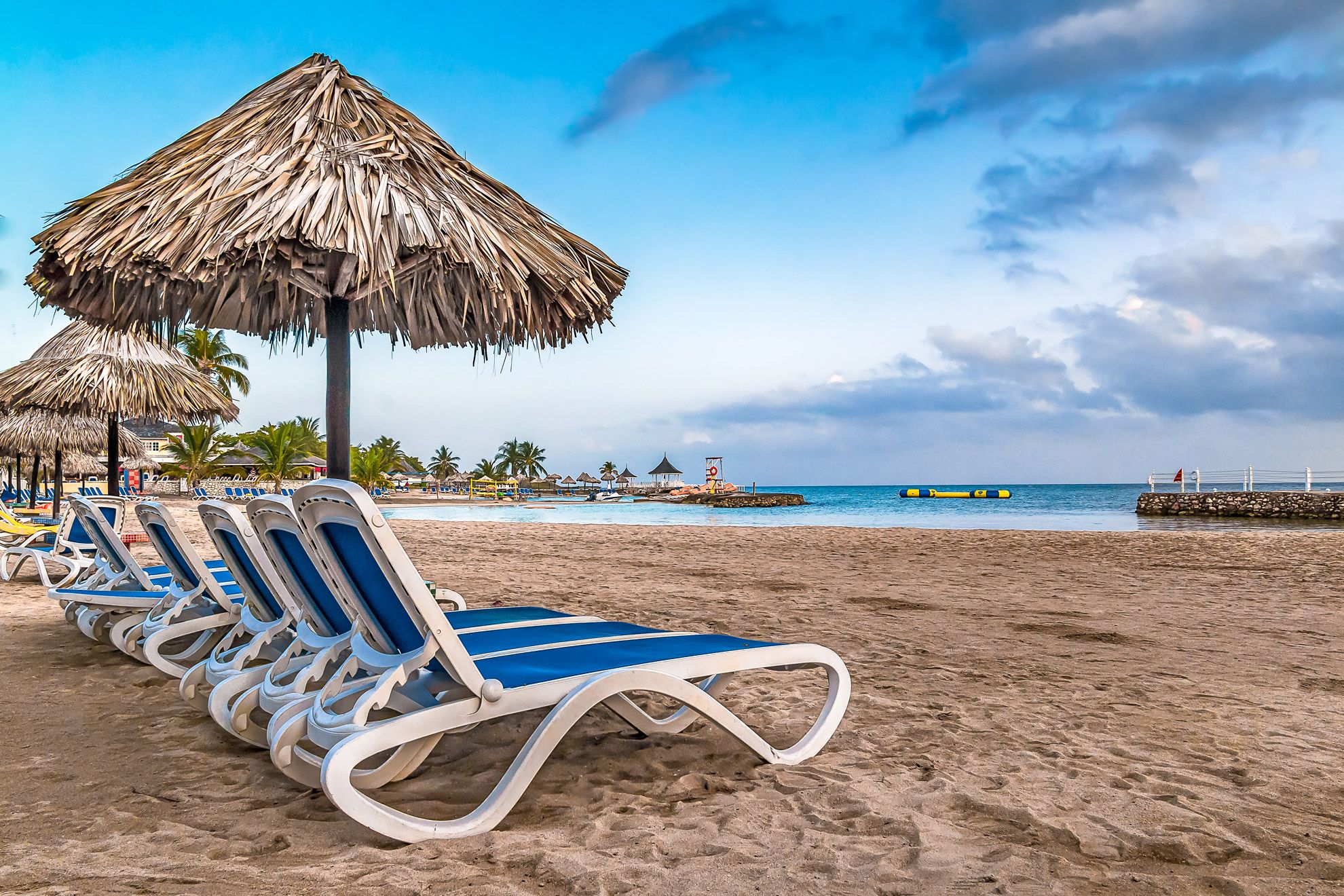 Image credit: Debbie Ann Powell/Shutterstock.com
Although Runaway Bay is positioned to the north of Jamaica (about 10 miles west of Ocho Rios), it is somewhat more westward compared to some of the other towns on this side of the island. At this beach, the sunset often has captivating hues of purple and, of course, some of the beloved reds, oranges, and yellows that sunsets in this part of the world are known for. All you'll really need to do to enjoy a sunset in Runaway Bay is find a good spot, then settle in for the action. Having a camera with you is highly recommended!
Dead End Beach, Montego Bay
Dead End Beach was previously known as Sunset Beach in Jamaica. If you go to this beach to indulge in the end-of-day sunset views, you'll be able to see just why it went by this name in the past. Despite the fact that its new name does not allude to this, Dead End Beach is one of the best places to catch a sunset in Montego Bay. If you go to this beach to watch the sunset, you might just find that the beach is most crowded at this time of day.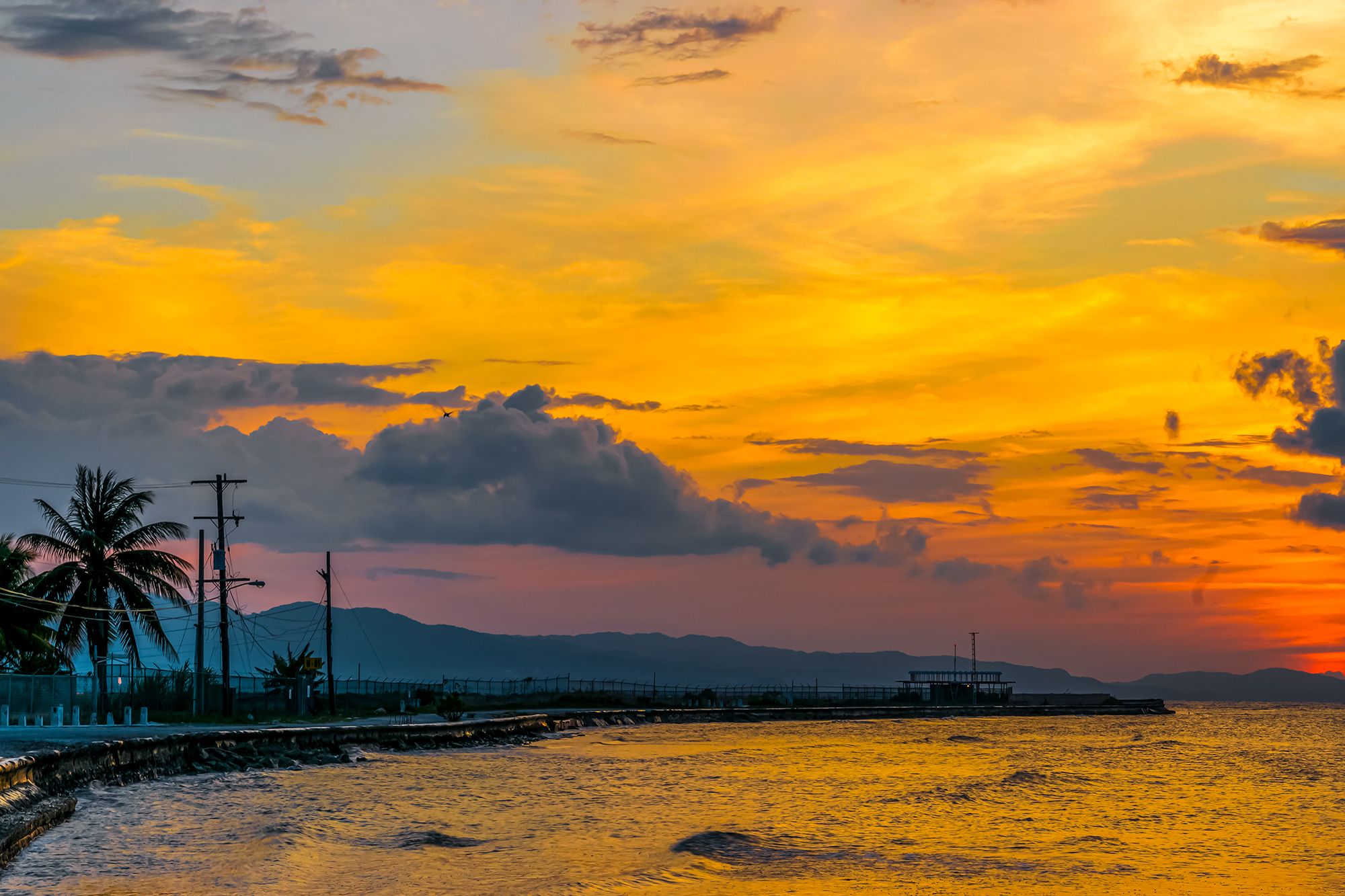 Image credit: Debbie Ann Powell/Shutterstock.com
Dead End Beach overlooks the Caribbean Sea. When the tide is high, there isn't much actual beach space at this location, but this doesn't deter sunset seekers. If you want to secure a good spot to watch the sunset here, it can help to settle in a bit early. Even if you don't, you're still likely to find somewhere suitable to watch the skies light up at the end of the day.
Best places to watch the sunset in southern Jamaica Treasure Beach
Watching the sun go down after a day well spent at Treasure Beach certainly is one of the things that you can look forward to on a Jamaica vacation. The name Treasure Beach refers to a collection of beaches and fishing villages, meaning you'll have more than one location to choose from for this experience. The beaches that are part of Treasure Beach span around six miles along the southwest coast of Jamaica.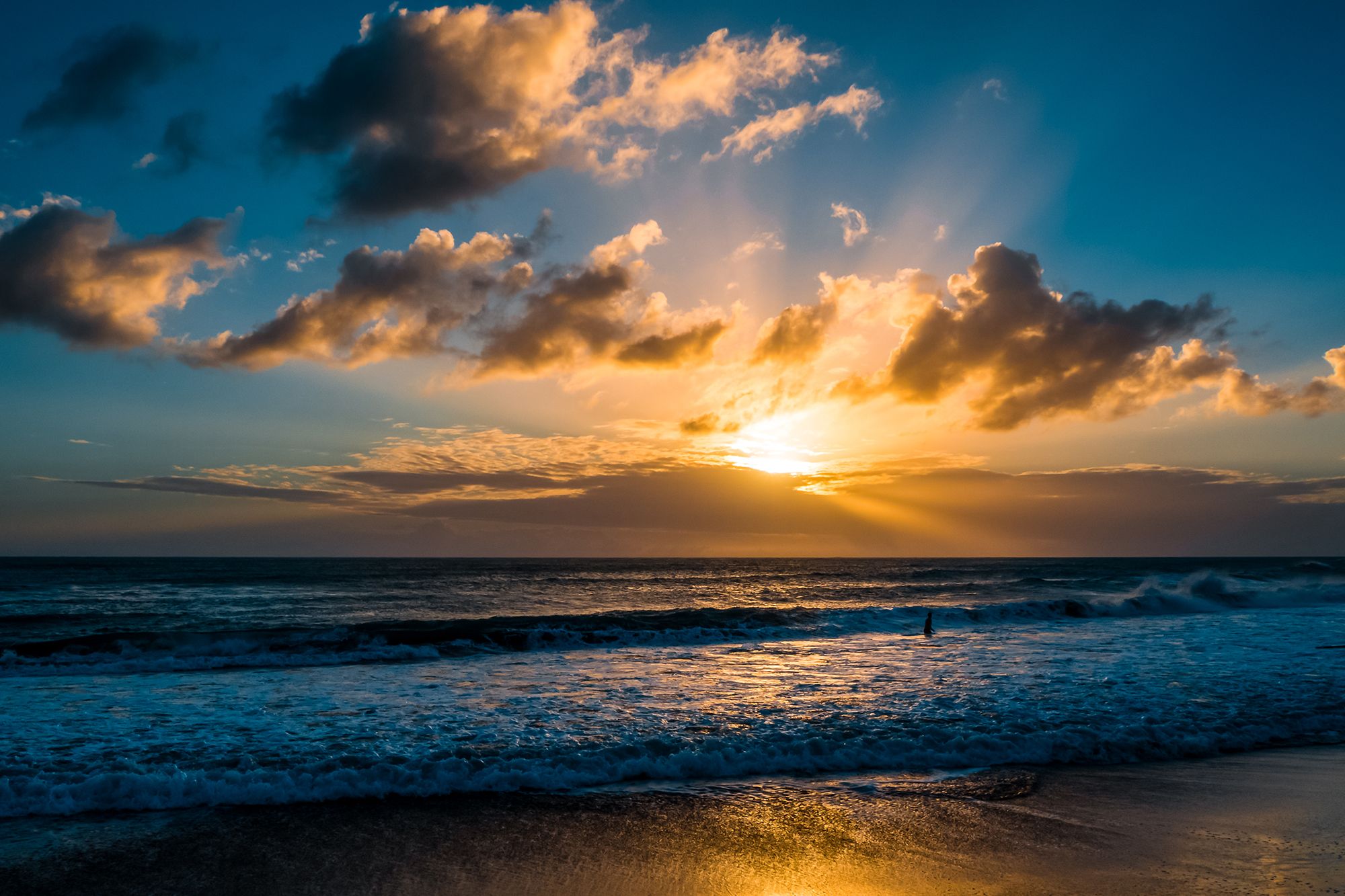 Image credit: kulafoto. pl/Shutterstock.com
Treasure Beach has a quiet ambiance and is quite beautiful. The appeal of going to Treasure Beach to watch the sunset has to do with how unique the views are in this area. The sunsets here can be seen over the water from the more eastern points. If you want to watch the sunset in this area, you may have to plan this experience a bit, as it's a little off the beaten path. The drive here can be worth it if you want to enjoy a beach day that's peaceful, not too crowded, and topped with an unforgettable sunset.

Good to know: There are lots of exciting things to do in Jamaica with kids. This includes exploring some of the best beaches in Jamaica and spending time at the Negril water park.
Sunset cruises from anywhere in Jamaica!
If you're looking for a truly unforgettable way to experience the beauty of Jamaica's sunsets, consider embarking on a sunset cruise from any corner of this captivating island. Jamaica's sunsets are renowned for their breathtaking splendor, and a sunset cruise allows you to witness this natural wonder from the tranquil waters of the Caribbean Sea. Whether you're staying in Ocho Rios, Montego Bay, Negril, or any other coastal town, sunset cruise excursions are readily available, promising an evening filled with romance, awe-inspiring views, and fun for the whole family.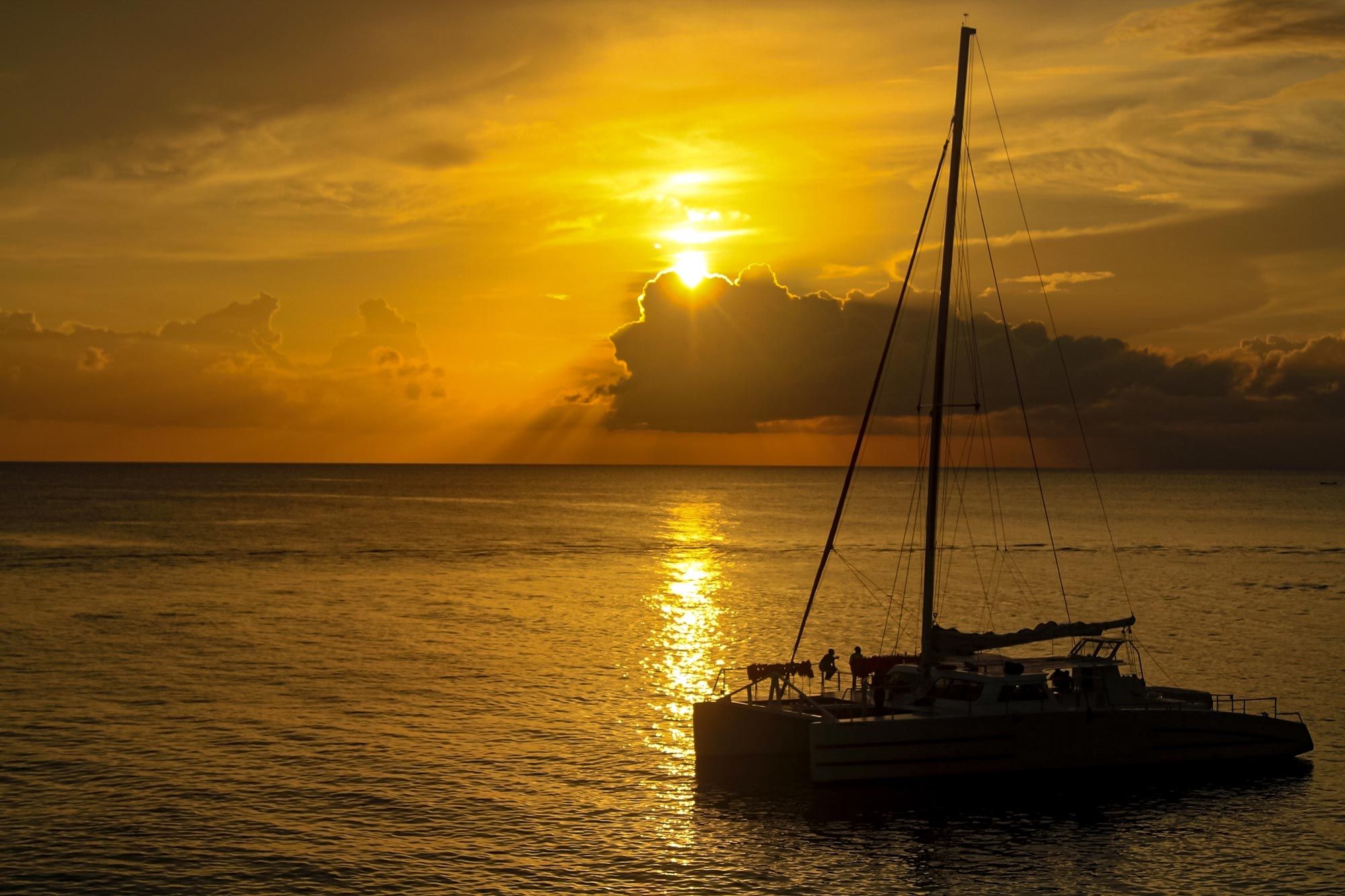 Here are some great sunset cruises available in Jamaica:
• Reggae Sunset Catamaran Cruise Montego Bay
• Reggae Sunset Catamaran Cruise South Coast
• Reggae Sunset Catamaran Cruise Negril
• Lover's Rock Catamaran Cruise Ocho Rios
Bonus – The best place to watch the sunrise in Jamaica? Ocho Rios!
Unless you're naturally an early riser, on some vacations, you might not even wake up early enough to see the sunrise, what with all the fun you might have had the evening before. Vacations with children or other family members who are early risers could be a whole different experience! This can be a great thing if you're staying in a part of Jamaica like Ocho Rios, where the sunrise views are known to be exceptional.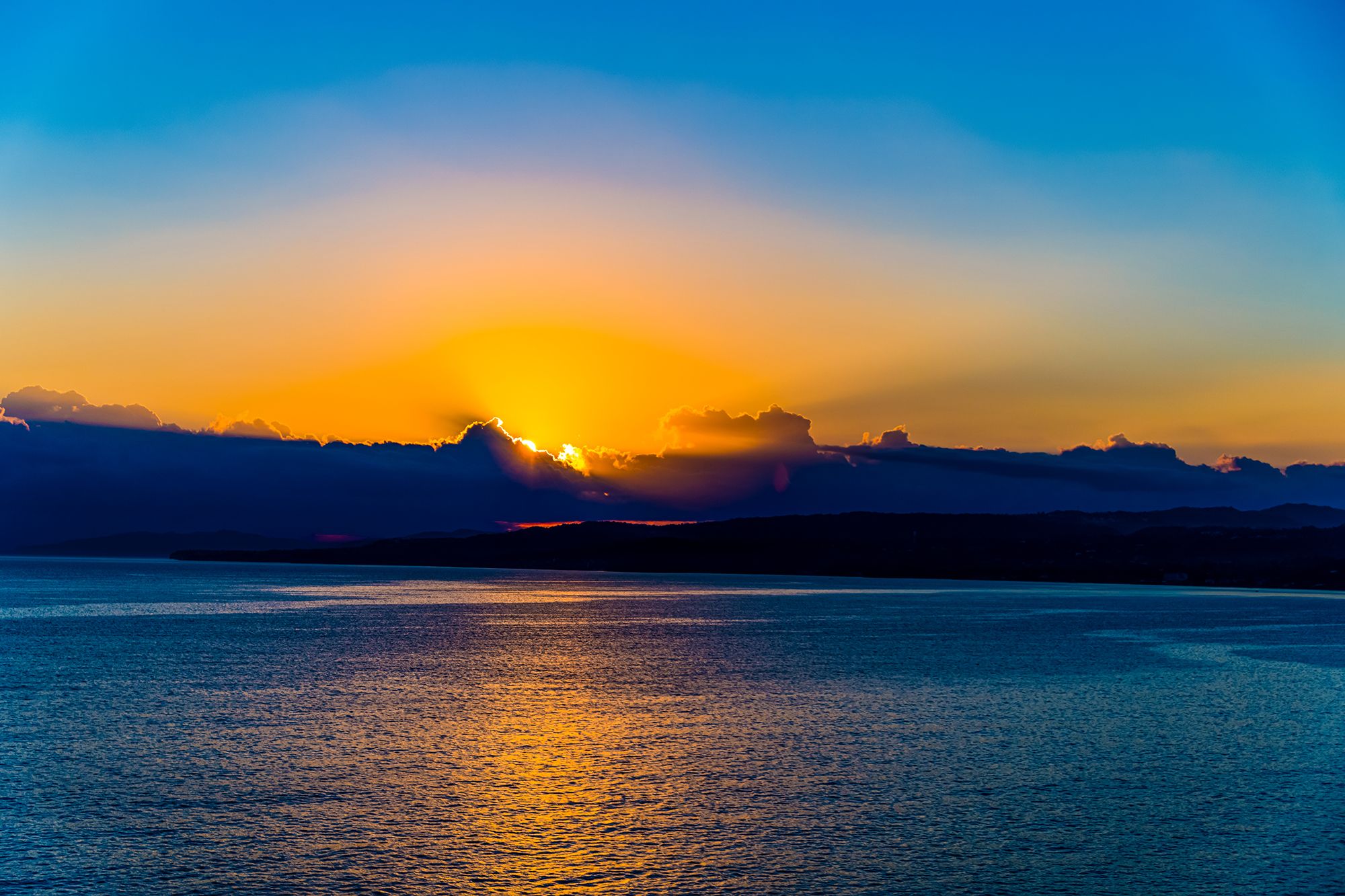 Image credit: gmeland/Shutterstock.com
Shake off any lingering drowsiness and head either to your balcony or down to the beach to take in an amazing Ocho Rios sunrise. When the colors start working their magic through the sky, you'll have no regrets at all as the morning's masterpiece is revealed. As Ocho Rios is in the north of Jamaica, this influences the dynamic nature of the sunrise views in this area. This isn't too surprising considering the sun does rise in the northeast! For sunset views, turn your eyes to the southwest to witness the beauty of nature in action.

Expert tip:
 Staying in Ocho Rios is ideal if you're an early riser and want to take in the best sunrises during your vacation. This is a great area to see incredible Jamaica sunsets as well particularly if you head down to the coast. This makes the 
Ocho Rios resorts
 that are located beachside a great choice for a Jamaica vacation.
Embrace the enchanting majesty of Jamaica sunsets!
Ocho Rios is best for sunrises, and Negril is best for sunsets! This has a lot to do with the positioning of these Jamaican towns as in the Caribbean, the sun tends to rise in the northeast and set in the southwest. With this knowledge and a list of the best places to watch a sunset in Jamaica, it might be time to get into the more intricate details of vacation planning, like deciding which of the Jamaica resorts to stay at!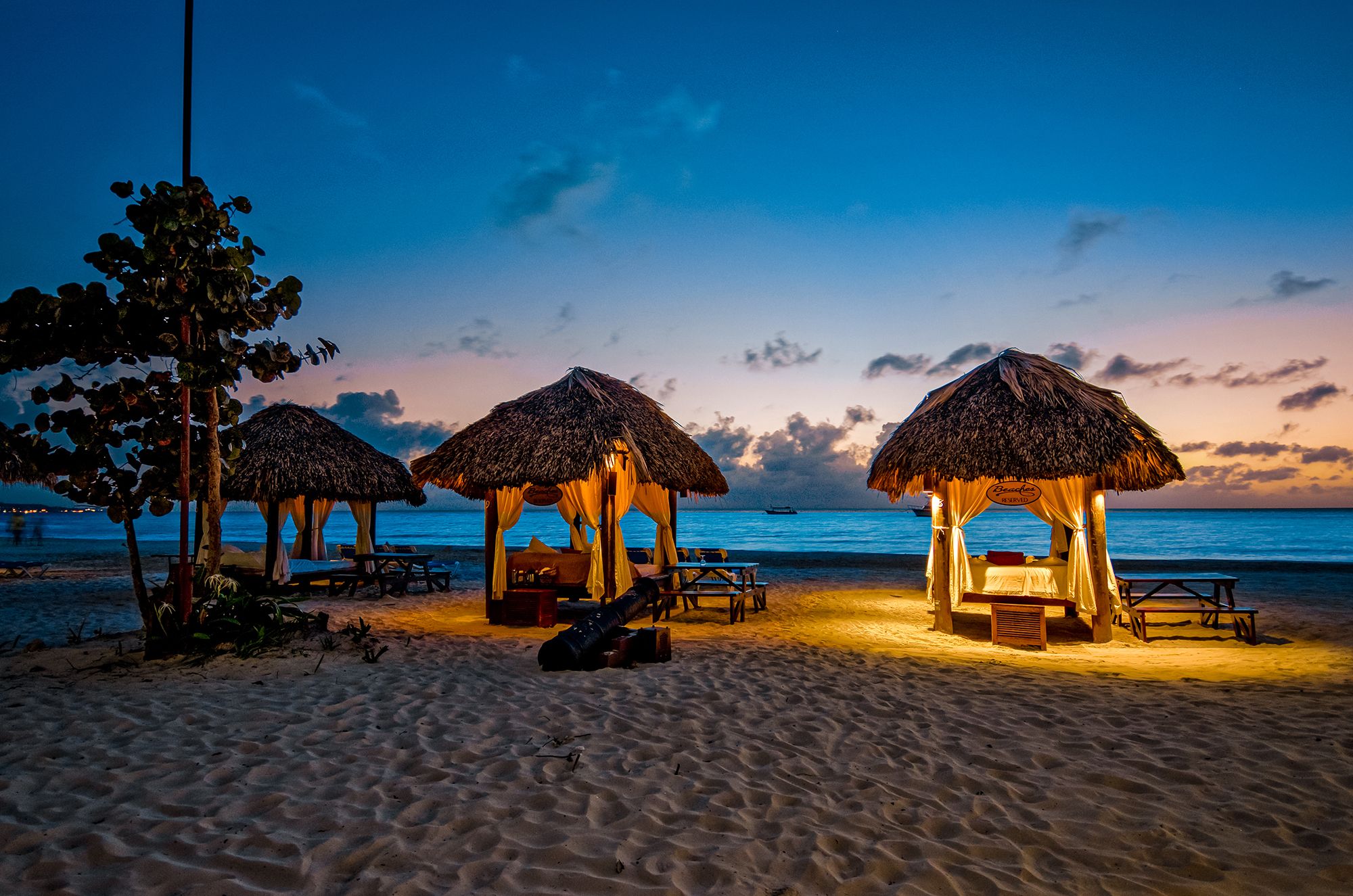 The Negril resorts are an excellent choice for families who want amazing sunset views and easy access to some of the best attractions in Jamaica, like the beaches and waterfalls. One standout option is Beaches Resorts, specifically designed to cater to families with children. This resort not only ensures that kids are entertained with activities like Kids Camps and an X-Box Play Lounge, but it also offers a water park, unlimited land and water sports, and more. Meanwhile, parents can indulge in the spa, state-of-the-art fitness centers, and a variety of restaurants for a romantic date night. There are even professional nannies to ensure parents can get in on the fun as well! Whether you choose to go on a sunset-inspired Jamaica vacation with friends, family, a group, or as a couple, this is sure to be an experience worth savoring.