There are many things Jamaica is known for and that list includes spectacular waterfalls, gorgeous beaches, and exciting tours. Jamaica is also one of the best islands in the Caribbean for souvenir shopping, and this is the aspect we'll focus on in this post.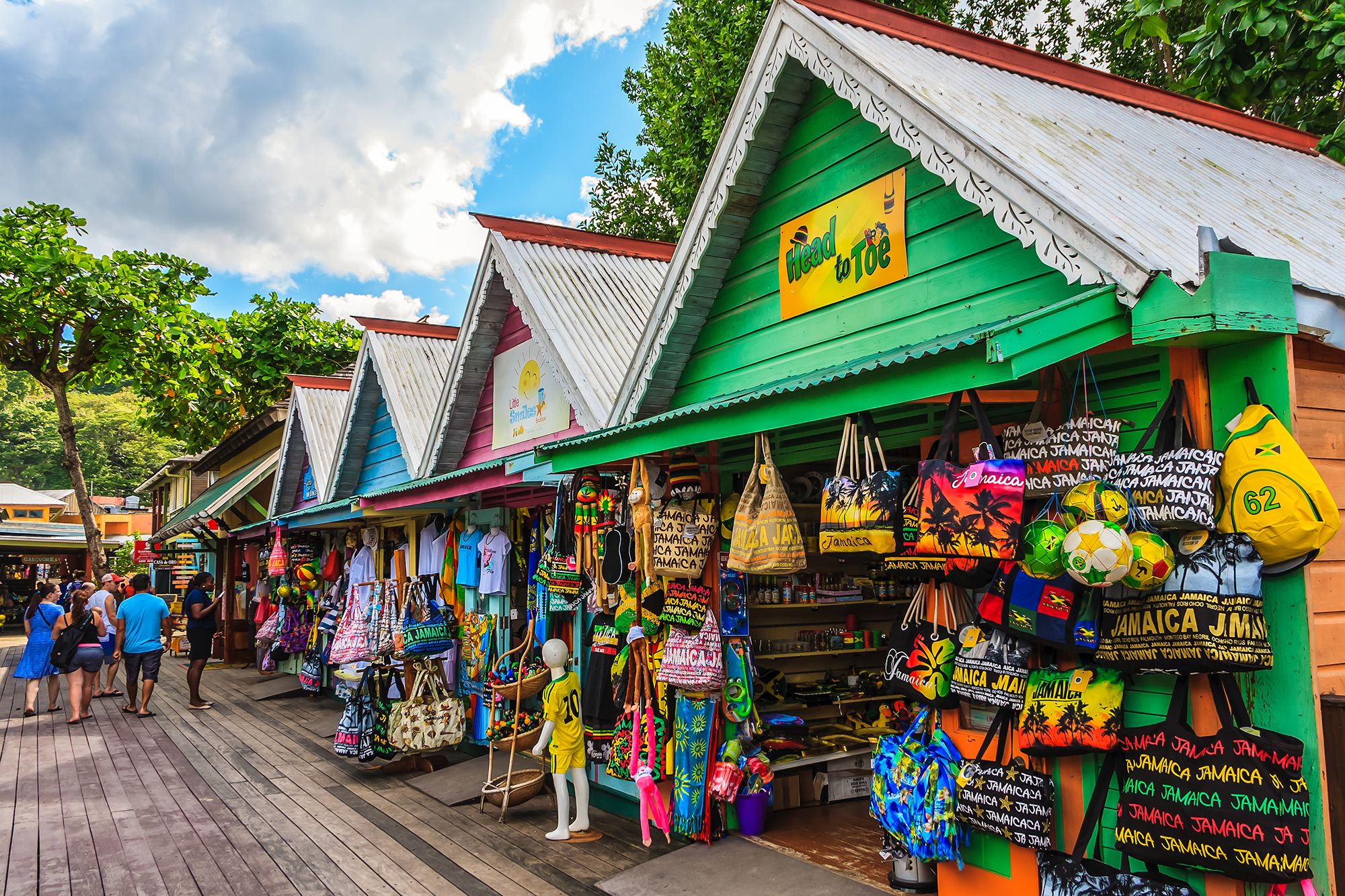 Image credit: Ovidiu Curic/Shutterstock.com
If you want to find the perfect Jamaican souvenir, think about what stuck out to you during your holiday. Another key consideration is who you intend to give the gift to and what they like. You may need to shop around to find the best options. On this island, top-rated souvenirs include locally made t-shirts, paintings, Blue Mountain Coffee, and even hot sauce. To help you decide on the best options, we've compiled a list of the 18 best Jamaica souvenirs. Any of these will be a great gift to take home after your vacation!
1. Reggae music and memorabilia
Reggae originated in Jamaica. This is the ideal island to visit if you want to immerse yourself in reggae music and perhaps discover new tunes while on vacation. There are many reggae artists on this island, and you might learn about ones you've never heard of while you're there. In addition to reggae, there is a diverse spectrum of local music to be enjoyed. On this island, dancehall, dub, and ska are also popular genres. Many of the local bars and clubs will have these threads playing. During your Jamaica vacation, you'll be able to purchase albums that you won't be able to get anywhere else – these can make the perfect gift or keepsake.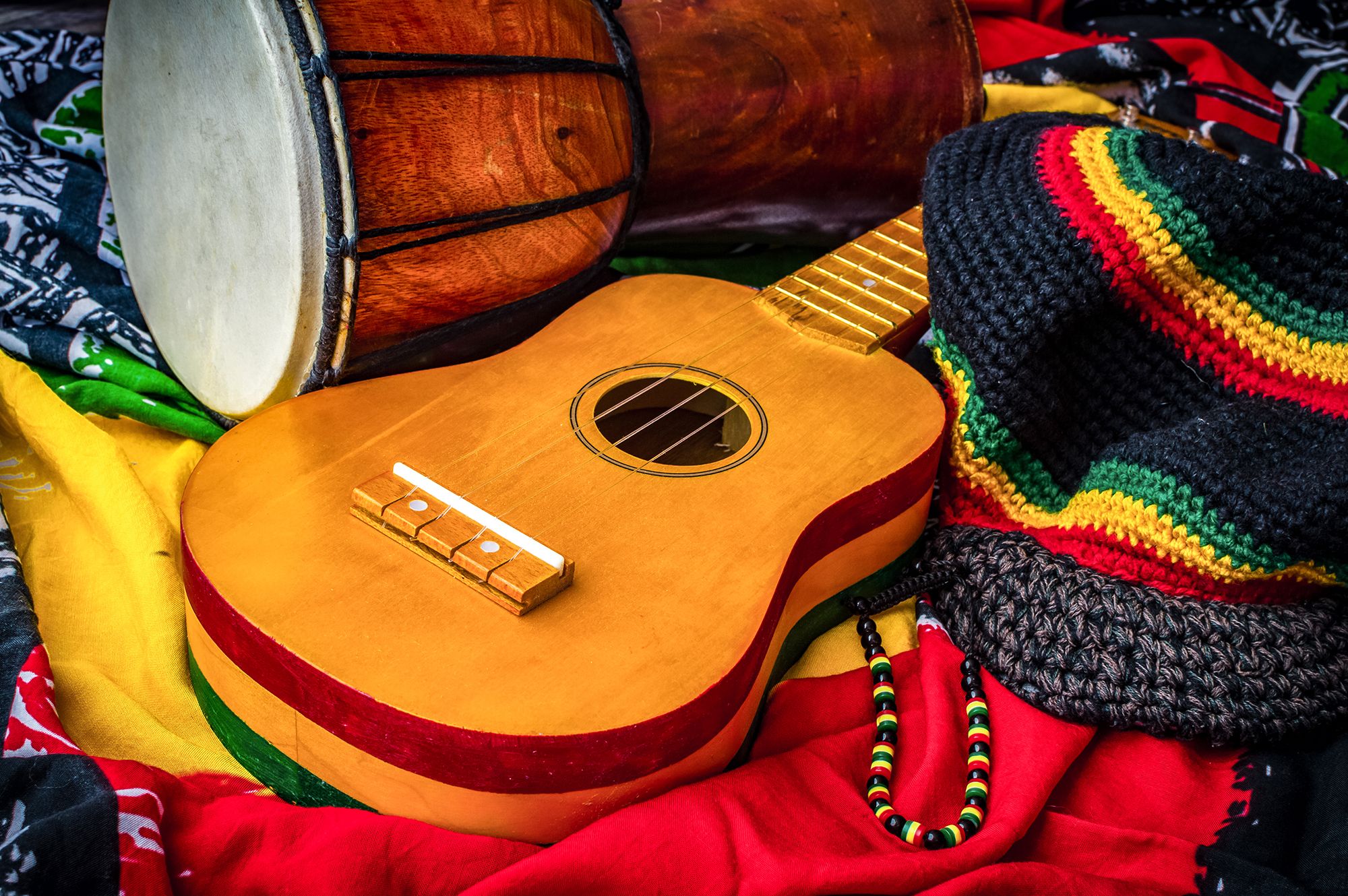 Image credit: Meik/Shutterstock.com
If you're interested in exploring the world of reggae a bit more, a trip to the Rasta community at Mount Debre Zeit near Papine, Kingston might appeal to you. For souvenirs, Mount Debre Zeit Records and Variety Store are great options. While getting into the reggae beats of this island, you can try one of the locally brewed root tonics and discuss the island's music and artists with the locals. Some of the biggest music names in Jamaica include stars like Bob Marley, Jimmy Cliff, Greggory Issacs, Shaggy, and Sean Paul.

Expert tip:
 The 
Bob Marley Museum
is the ideal tour stop for reggae lovers, especially Bob Marley fans. At this location, you'll find lots of information about the life and inspiration of this artist, as well as a gift shop where you can pick up souvenirs.
2. Blue Mountain coffee
Blue Mountain Coffee doesn't need much of an introduction — it is one of the most famous coffee brands in the world. The exclusiveness of Blue Mountain Coffee is part of its appeal, as is the fact that the coffee beans are hand-picked and grown in high elevations which influences its quality. Blue Mountain Coffee is loved for the fact that it lacks bitterness and for its rich flavor.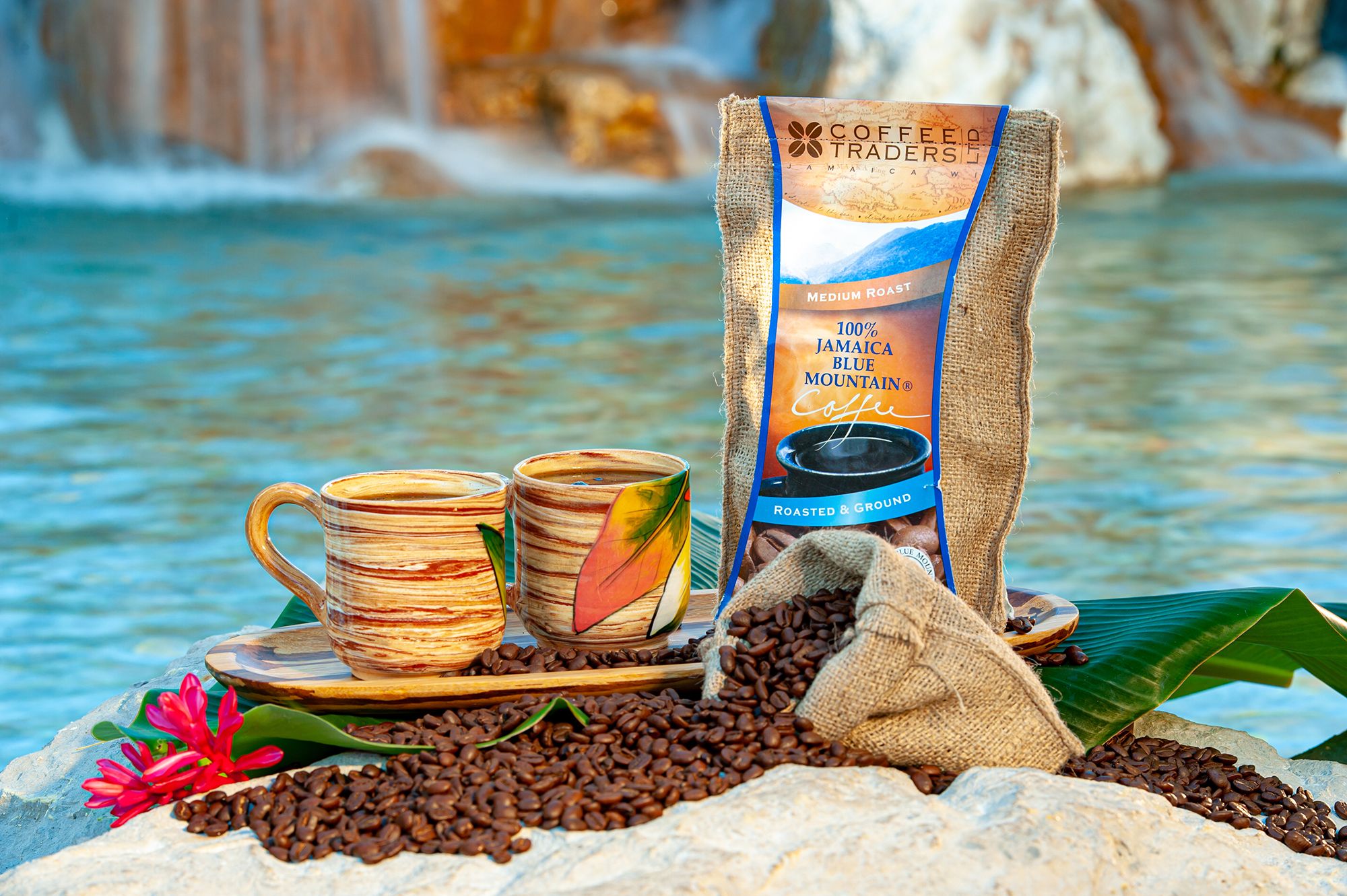 Blue Mountain Coffee is grown in the volcanic soil of Jamaica's Blue Mountain region. Due to the intricacy involved in its production process, this coffee tends to be a bit pricey. Despite that, it remains highly sought after and certainly one of the best coffees in the world. While in Jamaica, you can pick up some Blue Mountain Coffee to take home as a gift. If you want to make sure that your Blue Mountain Coffee is authentic, look for the Coffee Industry Board of Jamaica certification mark.
3. Oil paintings and other artwork
If you want some unique artwork to take back home with you, then you can consider purchasing an original oil painting in Jamaica. There are quite a few options available that were created by talented local artists. Some variations feature sunsets, turquoise waters, stunning beaches, village life, and festivals. This is a great way to take some of the beauty of Jamaica home with you.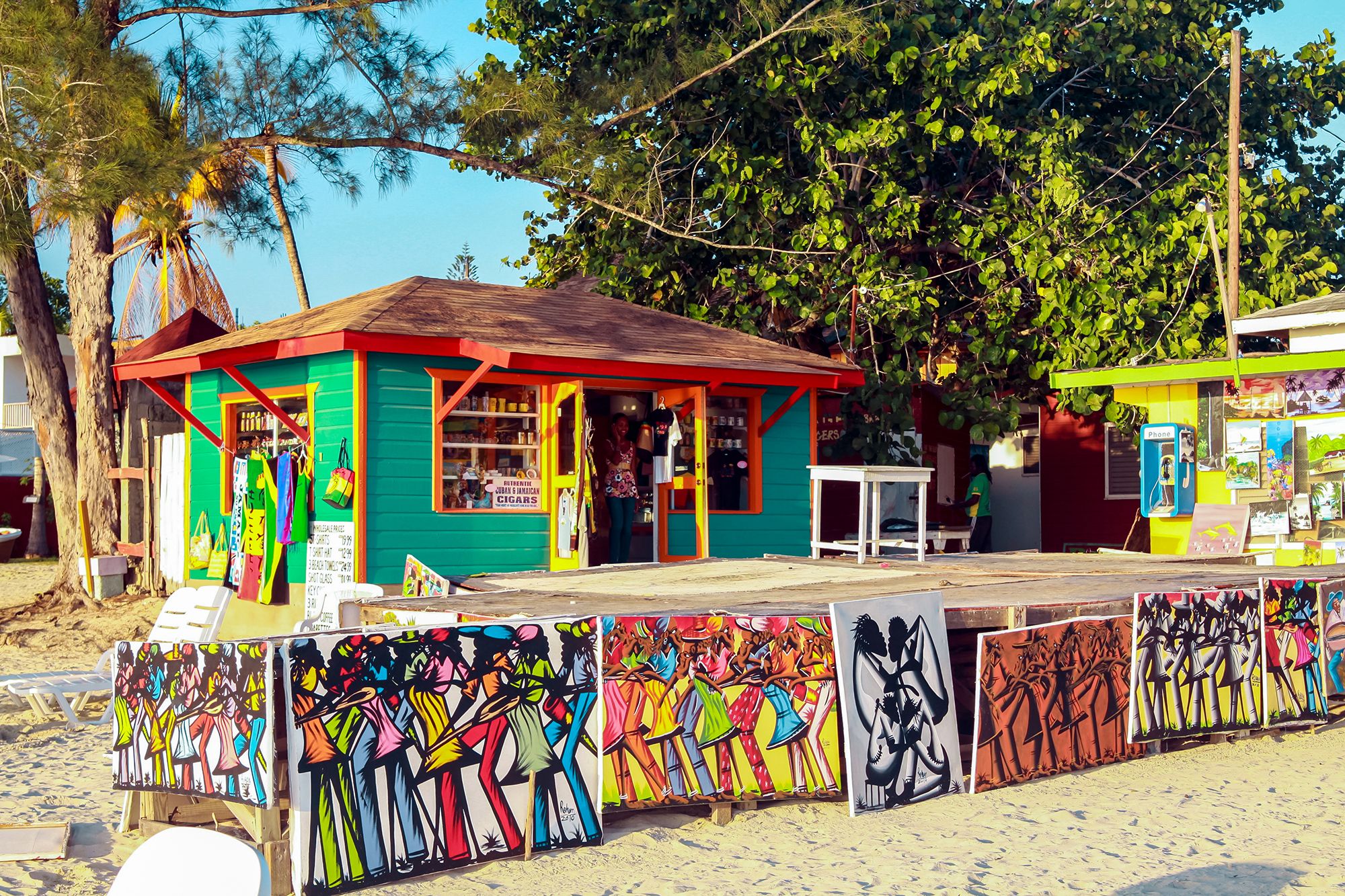 Image credit: Ralf Liebhold/Shutterstock.com
To find the perfect oil painting or other artwork, you can browse some of the local galleries. This is also a great way just to get some inspiration to commission your own piece. Depending on the size, it might be possible to make arrangements to have your painting mailed directly to your home. If it's small enough, you might be able to take it with you as a carry-on.

Expert tip:
 Read our post on 
how to pack a suitcase
, which can provide some insight on how to pack larger items into your suitcase. This can be helpful whether you're heading to your vacation destination with them, or want to bring new items back home.
4. Jamaican rum (and rum cream)
Jamaica has quite a few rum distilleries that produce quality brands. So, why not take some of the best rum in Jamaica home as a souvenir? You'll find a variety of rum including white rum, golden rum, aged rum, and overproof rum. Wray & Nephew White Overproof Rum, Worthy Park Estate Rum-Bar White Overproof Rum, Hampden Estate Pure Single Rum 46% ABV, and Appleton Estate 12-Year Old Rare Blend are among the best options.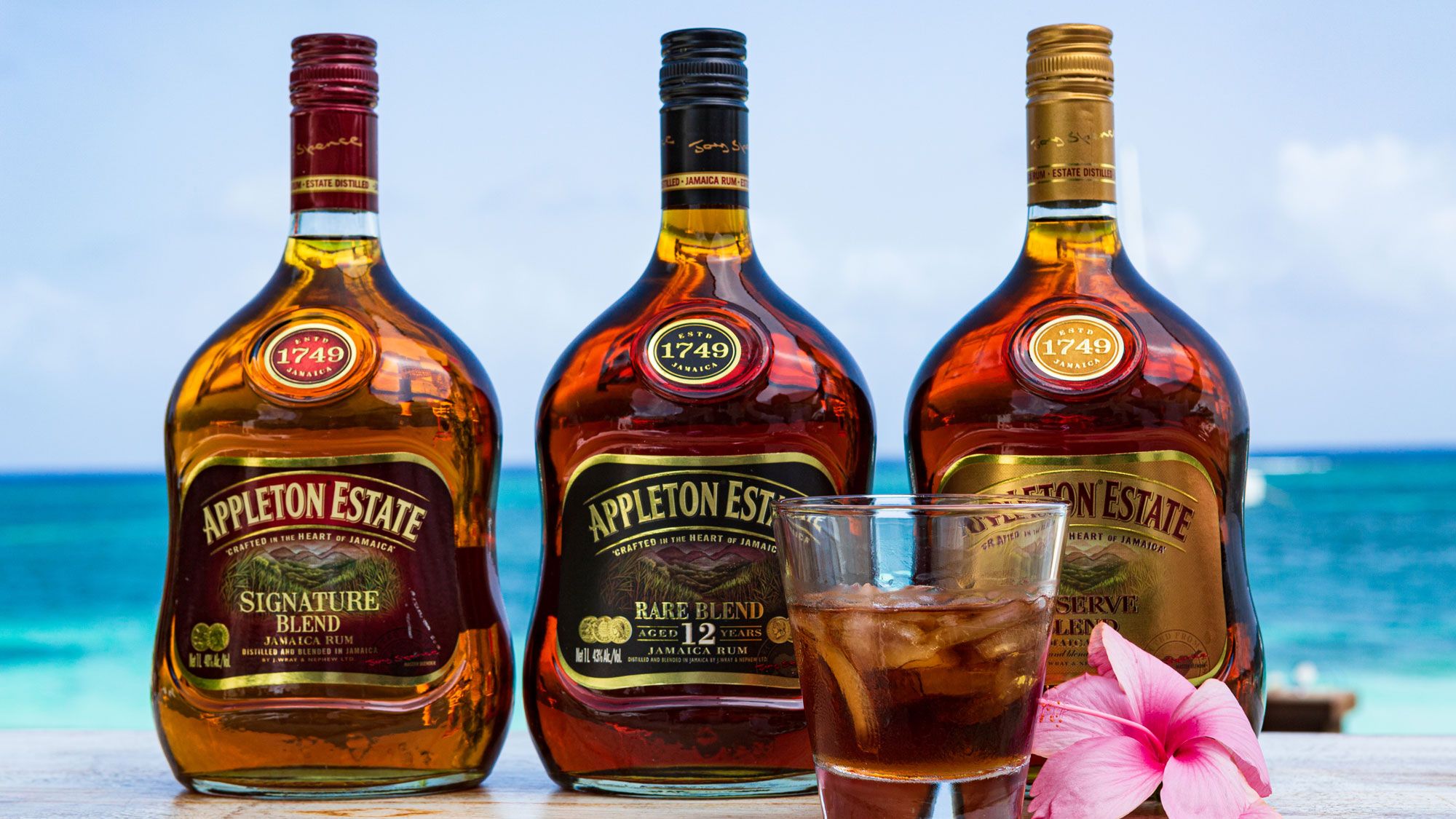 The best thing about the local rum is that it always seems to add the perfect touch to any cocktail. If you'd prefer something a little more mellow, you can try some of the rum creams made in Jamaica. Some brands include nuts, spices, and even dried fruits. Rum Cream goes well with Blue Mountain Coffee, so a pair of these could be the ideal Jamaica souvenir. Keep in mind that the legal drinking age in Jamaica is 18. Anyone under that age will not legally be able to purchase alcohol on this island.

Good to know: In Jamaica, you can choose to tour some of the local distilleries, like Appleton Estate. During this tour, you can learn about the rum-making process and there's also the option to purchase souvenirs.
5. Hot sauce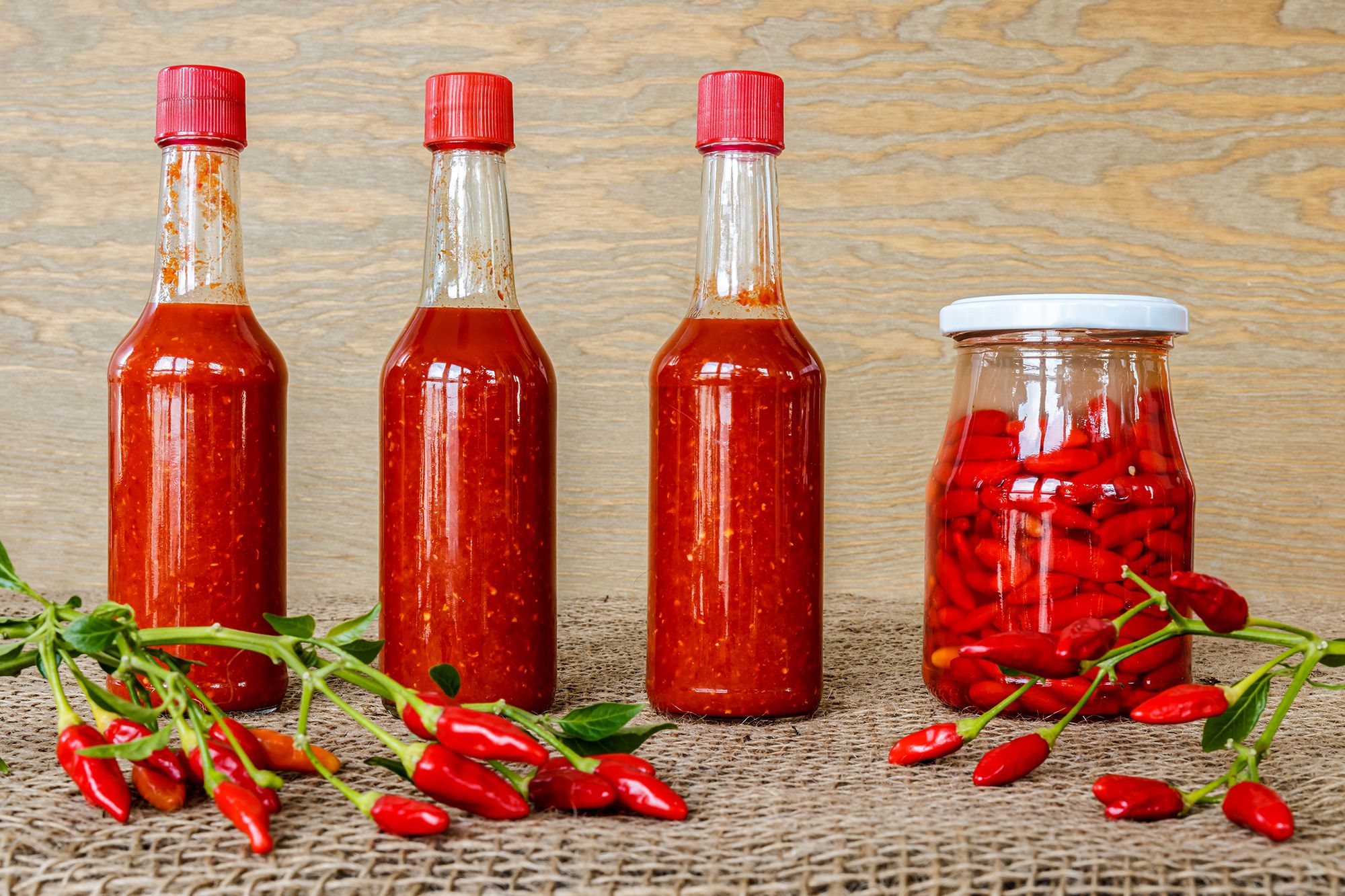 Image credit: Fotema/Shutterstock.com
Many Jamaican dishes, notably jerked meats, are recognized for their high spice content. Even if you don't order from a popular jerk restaurant, you may add some heat to your food with a nice bottle of spicy sauce. Scotch bonnet peppers, which are among the hottest chili peppers in the world, are commonly used in Jamaican hot sauce. If you purchase this as a souvenir, you'll be able to give a gift that's full of fire, taste, and of course, a bit of Jamaica. When it comes to Jamaican hot sauce, you have a lot of options. Milder varieties are also available, some of which are created with fruits such as mango and banana.
6. Coconut oil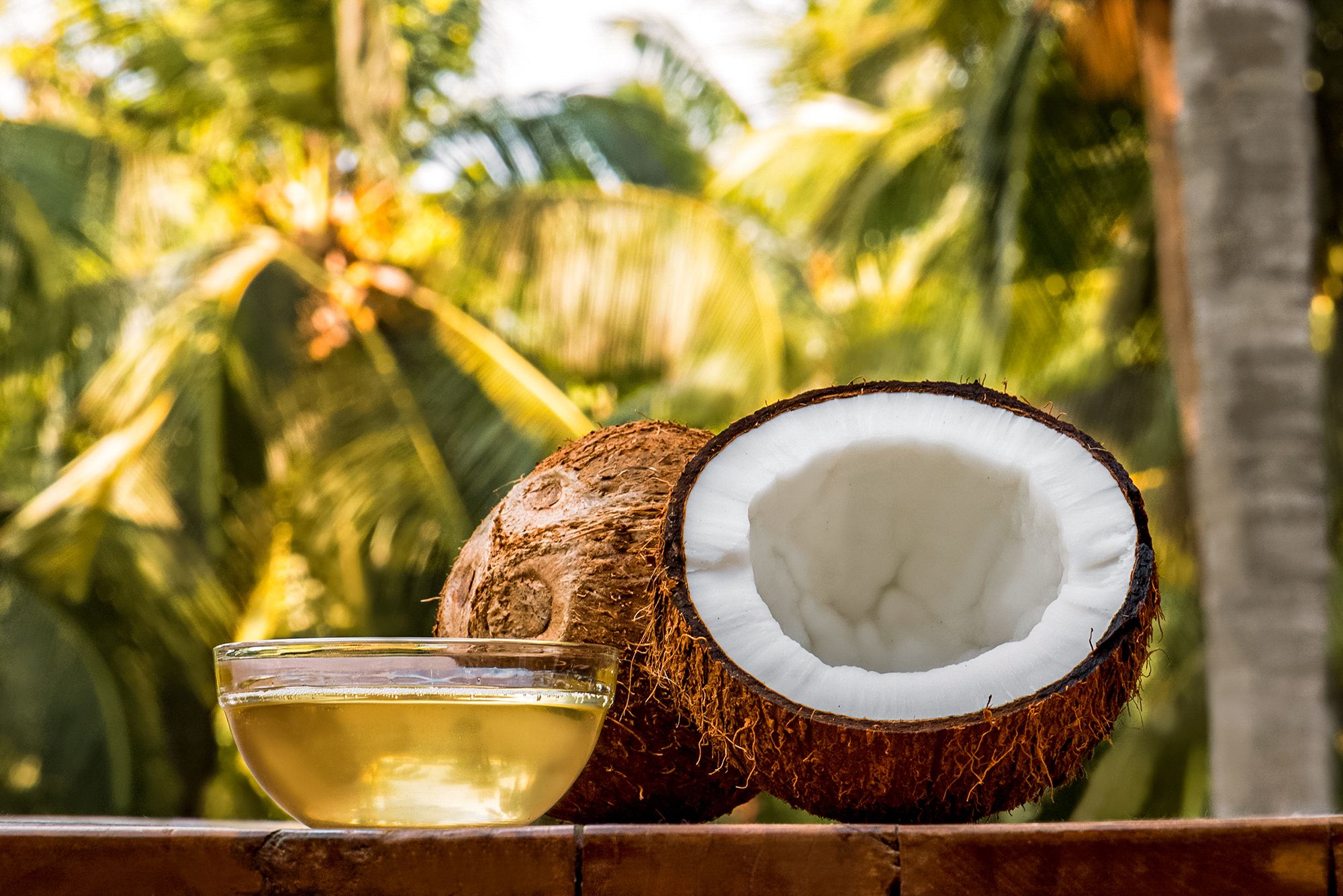 Image credit: Thasneem/Shutterstock.com
Some see coconut oil as a remedy for pretty much everything. In Jamaica, don't miss out on a chance to get local cold-pressed coconut oil. You can use this oil for a variety of things including hair and skin care, makeup removal, and a range of health uses. According to health experts, coconut oil is among the healthiest oils that you can find — it is believed to aid in protecting the body and brain. Due to its many health benefits, this will make a great gift — be sure to purchase some for yourself as well!
7. Jerk seasoning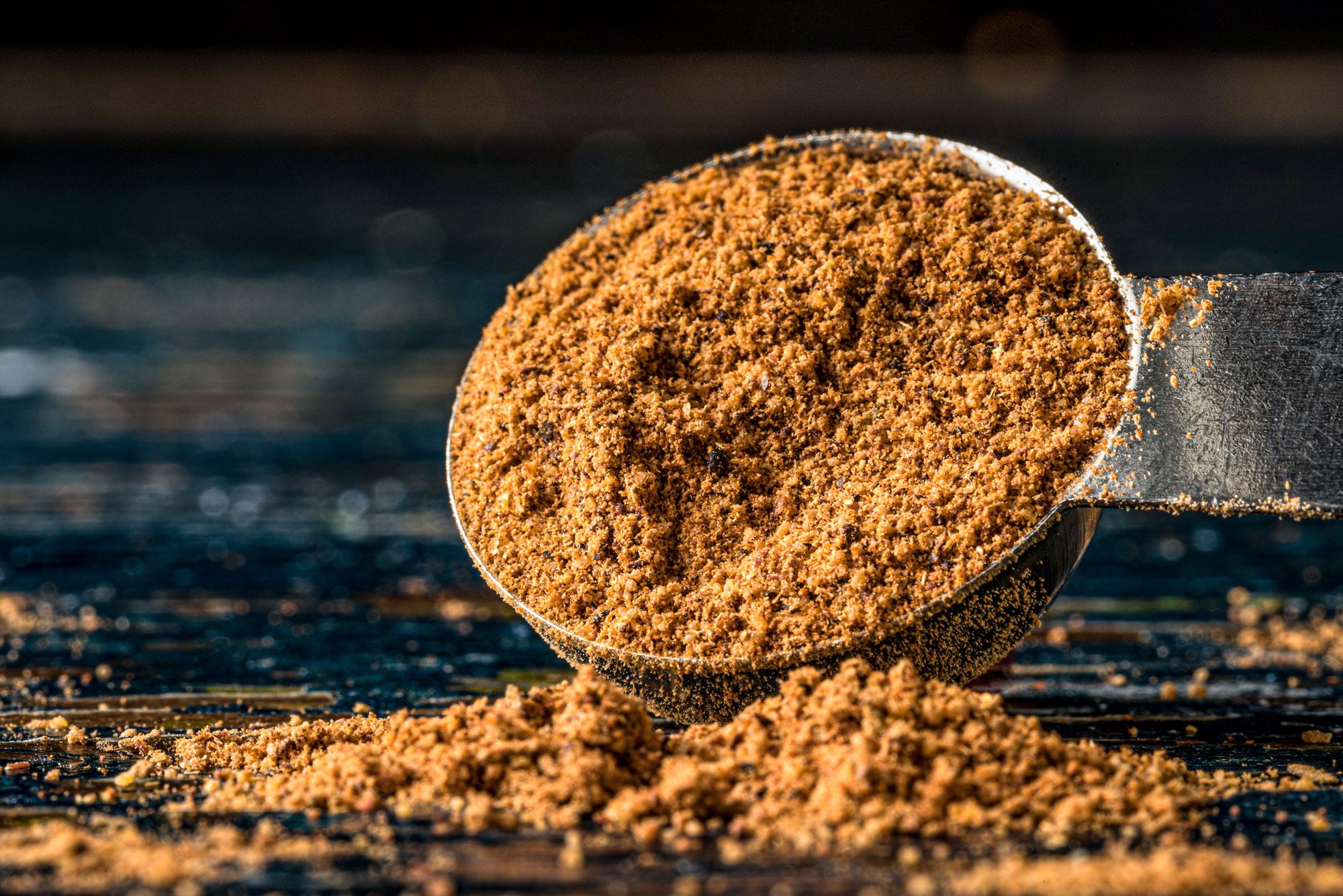 Image credit: Michelle Lee Photography/Shutterstock.com
If you fall in love with jerk chicken, jerk pork, or even jerk shrimp while visiting Jamaica, the good news is that you can bring some jerk seasoning home with you and perhaps recreate these meals on your own. Jamaican jerk seasoning is an excellent souvenir, but don't forget to buy some for yourself. If you want the best jerk seasoning brands, try Walkers Wood and Island Spice — these items can be found at local supermarkets and some gift shops.
8. Jamaican beef patties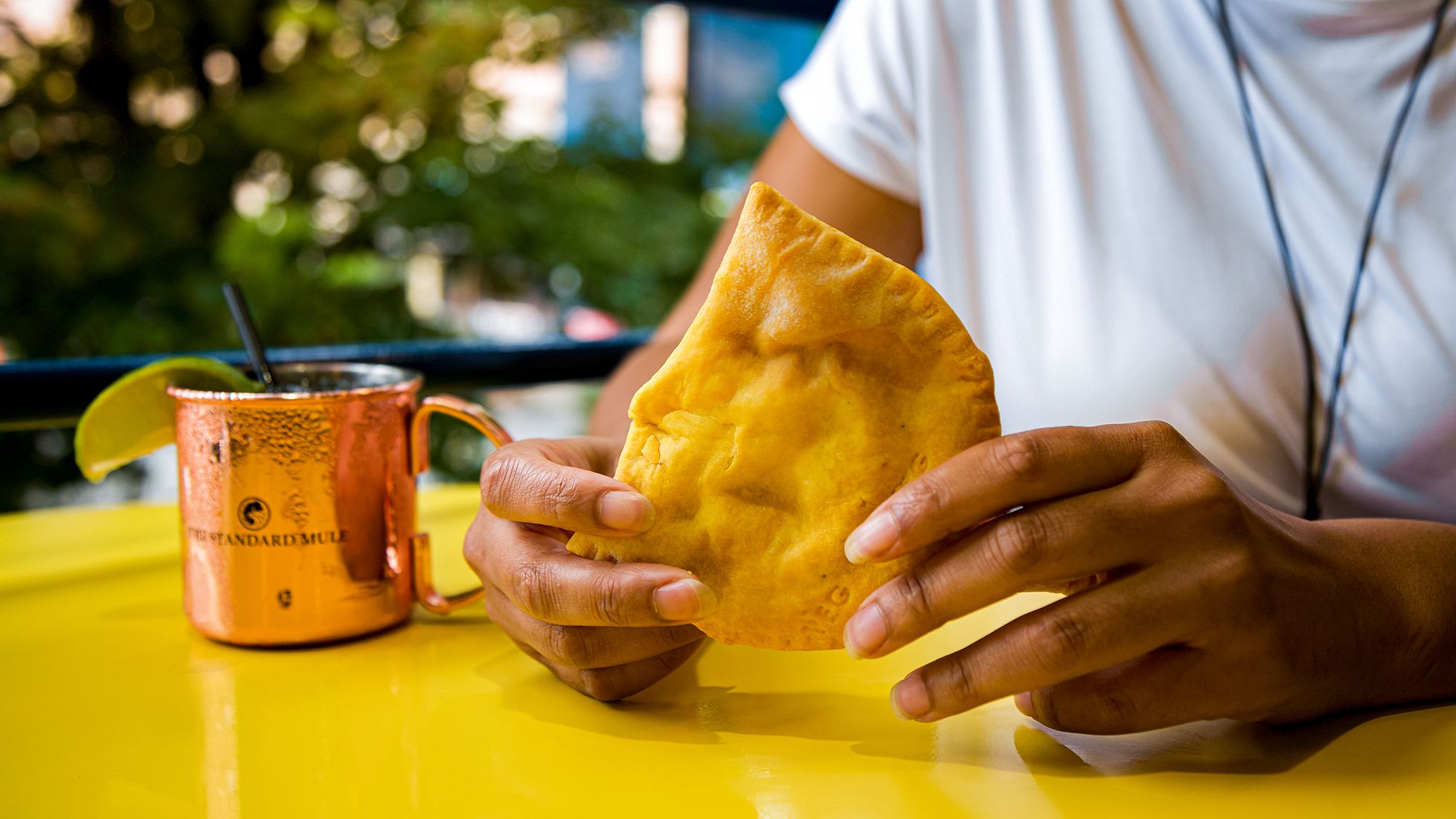 Image credit: Apsara Photo/Shutterstock.com
Beef patties are among the wonderful things Jamaica is known for. During your vacation, you can enjoy fresh and delicious beef patties at some of the most popular eateries. As these patties are quite flavorful, you might wonder whether it's possible to take some home with you. Well, the good news is you can! We admit that it may take a bit of pre-planning, but if you get everything just right you can bring frozen patties home to share with friends or family. Once you get home, all you'll need to do is heat them up and dig in. Freeze them and pack enough to share, plus a couple for yourself of course.
9. Cookbooks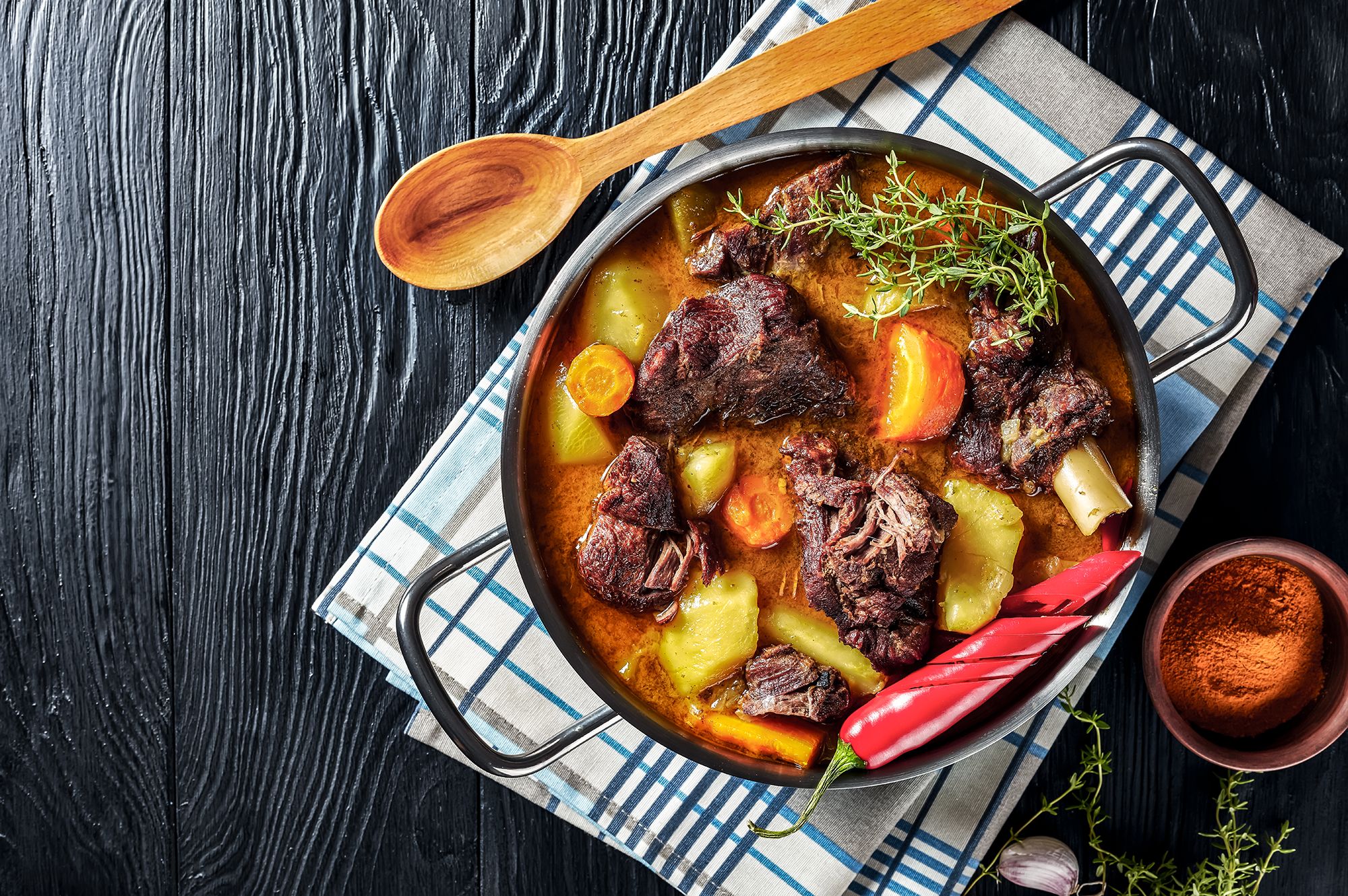 Image credit: from my point of view/Shutterstock.com
The food is part of what makes Jamaica special. A great way to take some of the amazing flavors home with you is by purchasing a local cookbook. This can make a great souvenir, particularly for someone who's never been to Jamaica before. Or, you can use the recipes in the cookbook to create an authentic Jamaican meal that your friends and family can enjoy. This will be a great way to share some of what you experienced in Jamaica with the people you love.
Good to know: If you want to try out some Jamaican recipes while you're on the island, you can sign up for local cooking classes. There are quite a few options for cooking classes available across the island.
10. Coconut wine glasses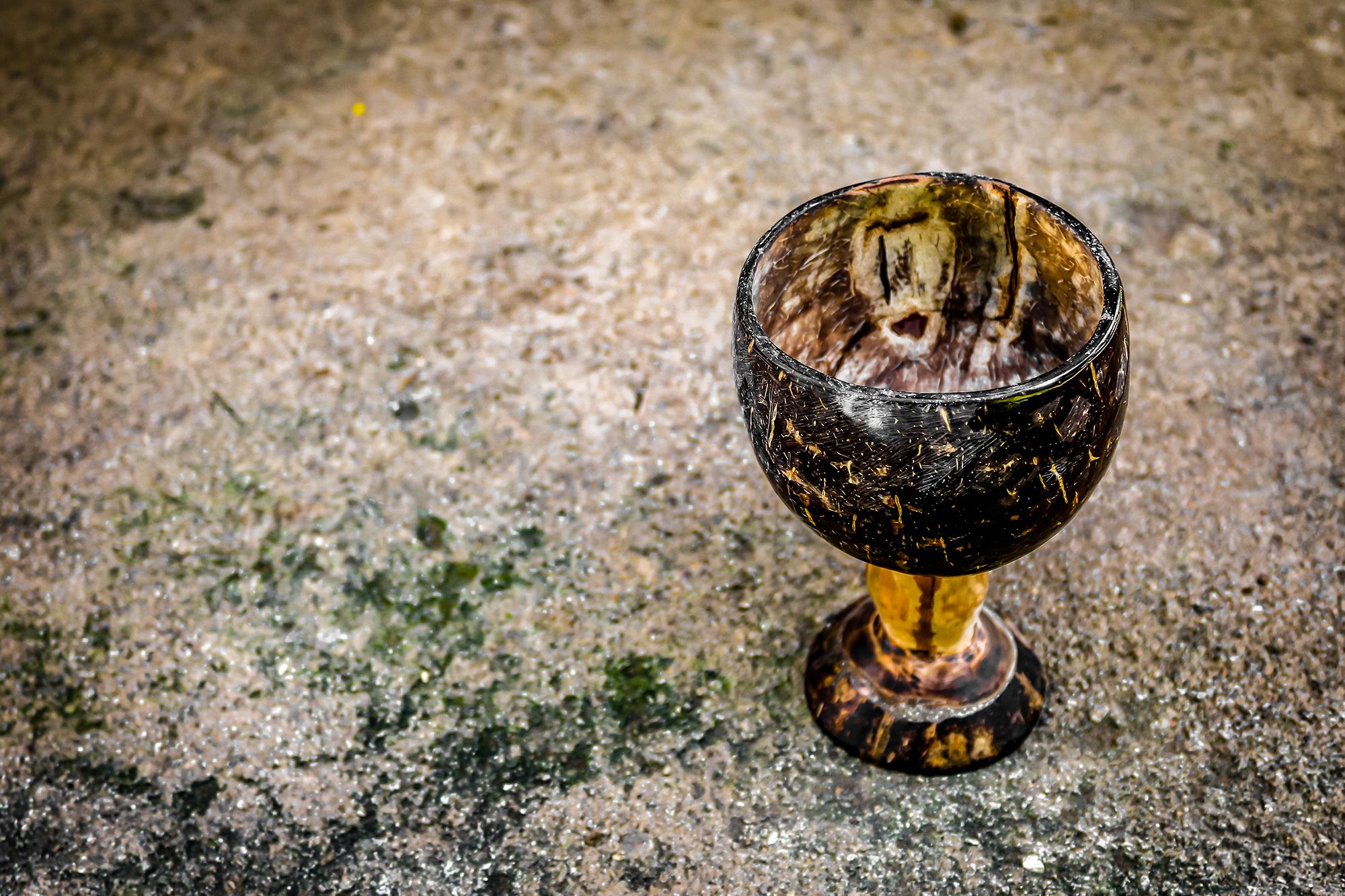 Image credit: mathius/Shutterstock.com
Wine glasses are an elegant gift that is always welcome. For a version of this gift with a tropical twist, why not opt to give the gift of coconut wine glasses? These won't be hard to find in Jamaica — you can get them at most craft markets or from craft vendors in Montego Bay and around the island. Whether you get these for yourself or as a gift for someone special, whoever sips from these will for sure be able to get a true taste of Jamaica.
11. Wood carvings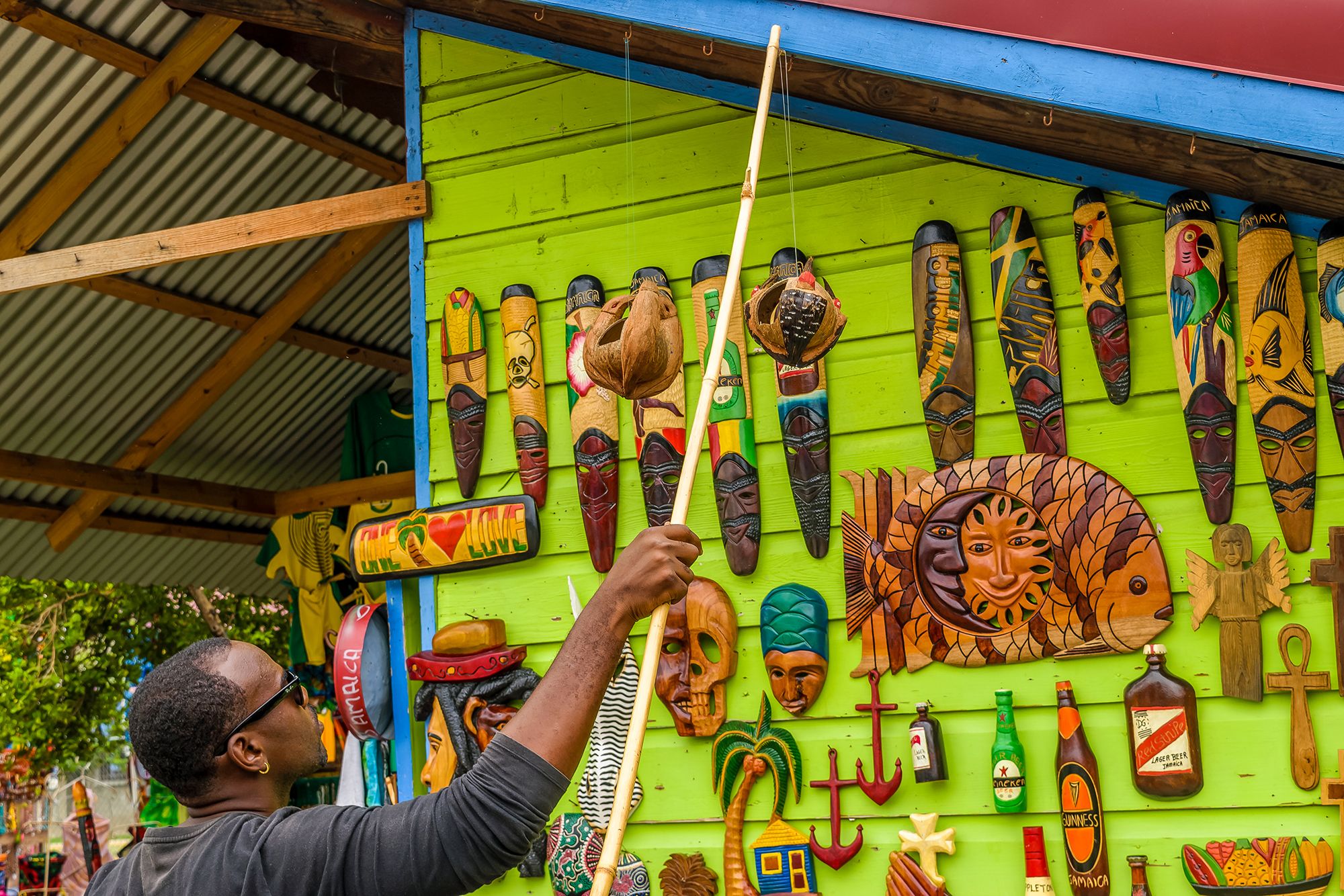 Image credit: Debbie Ann Powell/Shutterstock.com
Wood carvings are a unique gift item that can be the ideal gift for an artsy friend or family member or someone who appreciates craft. Wood carvings in Jamaica are typically made from cedar and mahogany trees, which are native to Jamaica. The artists who create these crafts make them in a variety of styles and in different shapes and sizes. In Jamaica, you'll be able to find wood carvings that are funny or cute and even a few that are on the naughty side. In Fern Gully near Ocho Rios, you can view and purchase some of the best wood carvings on the island.
12. Jamaican clothing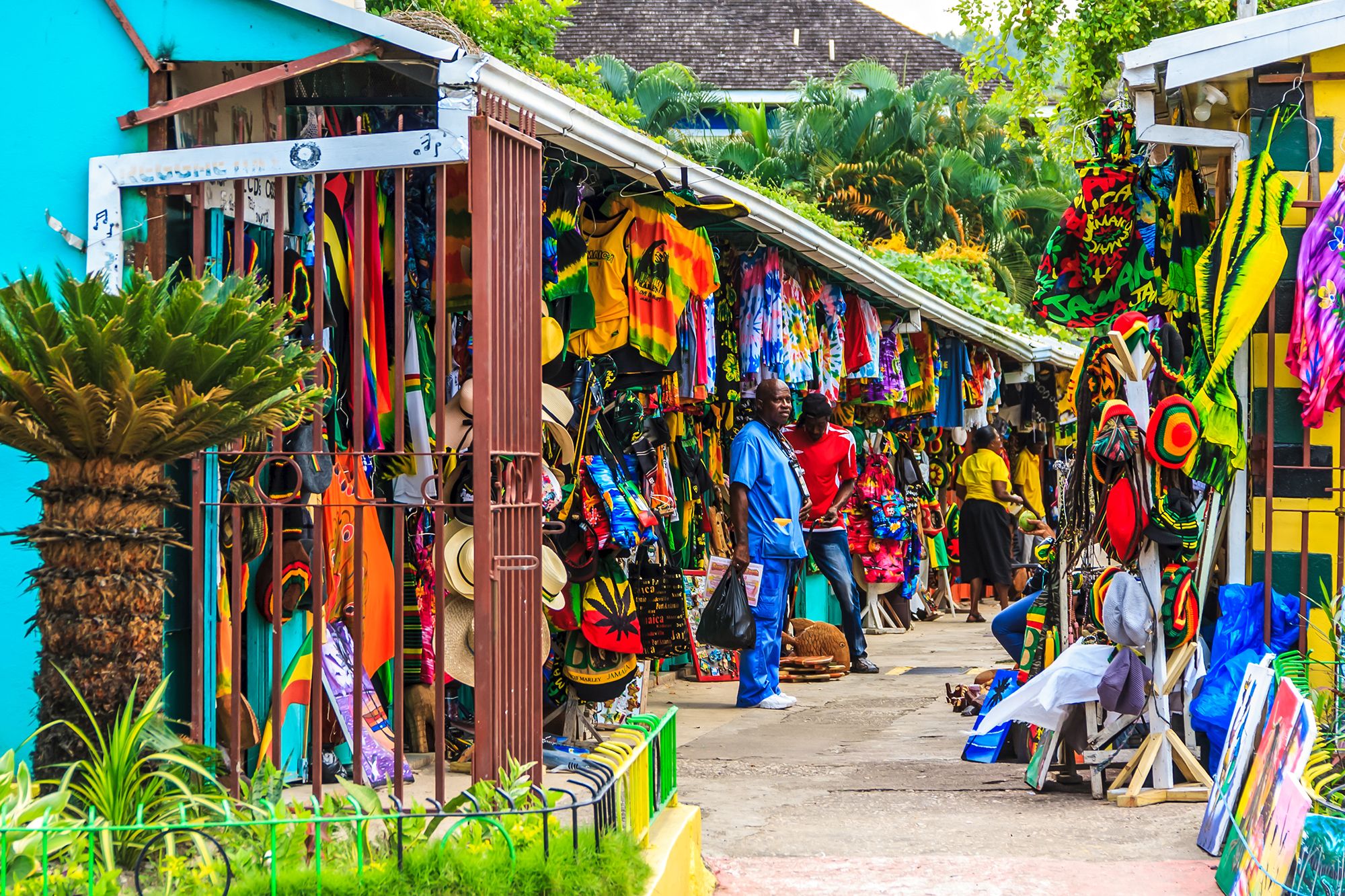 Image credit: Ovidiu Curic/Shutterstock.com
Getting Jamaican-inspired clothing is a real possibility during your vacation on this island. There are quite a few brands to choose from in this regard and many of them feature clothing with the signature colors of Jamaica's flag. Some local brands incorporate portraits of popular musicians and other artwork into their designs. As you're shopping around for Jamaican clothing to gift, your options will include hats, t-shirts, belts, bracelets, baseball caps, rasta hats, tracksuits, and more. You can also get things like beach towels, branded footballs, and mugs, which are good souvenir items as well.
13. Straw hats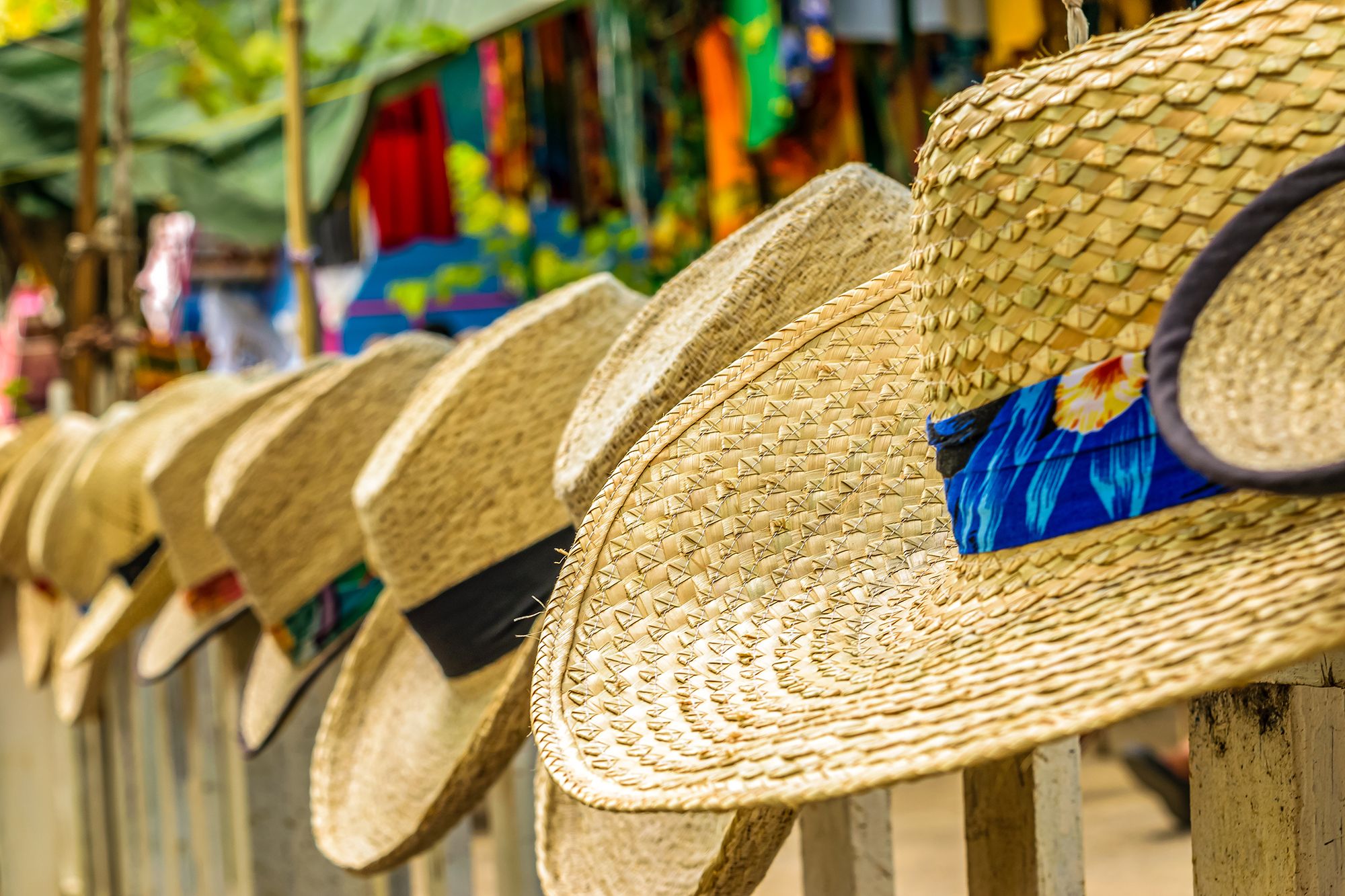 Image credit: Debbie Ann Powell/Shutterstock.com
A straw hat will certainly come in handy in the almost always sunny Caribbean. You can purchase a straw hat in a style that suits you on this island and you might even still be able to put it to use when you get back home. A straw hat can make a good gift for a friend or family member, especially if you want to share with them some of the sunshine of Jamaica. Straw hats can be found at most souvenir shops in Jamaica.
14. Calabash wooden bowls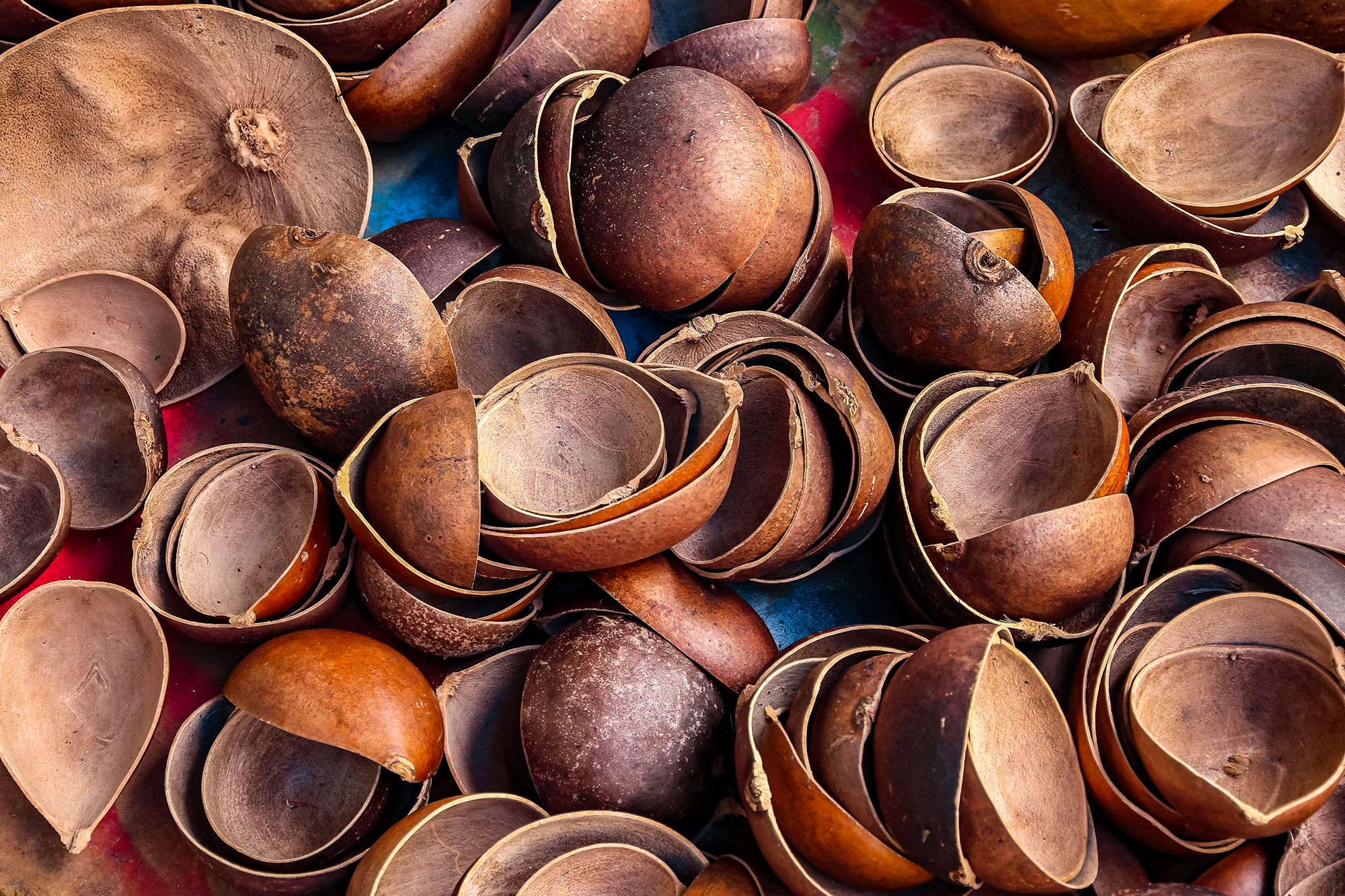 Image credit: Tupungato/Shutterstock.com
Calabash wooden bowls are a popular souvenir item in many Caribbean islands. In Jamaica, these bowls are sometimes used to serve meals, particularly soups. If you want that same rootsy, authentic Jamaica feel while dining once you get back home, you might want to purchase some while on the island. You can find calabash wooden bowls at the various craft markets in Jamaica. Pick up enough to be able to keep some for yourself, and give the rest to friends or family. If you get a bowl for each member of your family, you can enjoy an authentic Jamaican meal once you get back home. At some craft markets, these calabash bowls are sold pre-packed with seasonings and other spices inside.

Expert tip:
 A gift of calabash wooden bowls (pre-packed preferably) can be paired with a Jamaican cookbook and even some local bottled seasoning or hot pepper for the ultimate gift.
15. Jamaican root tonic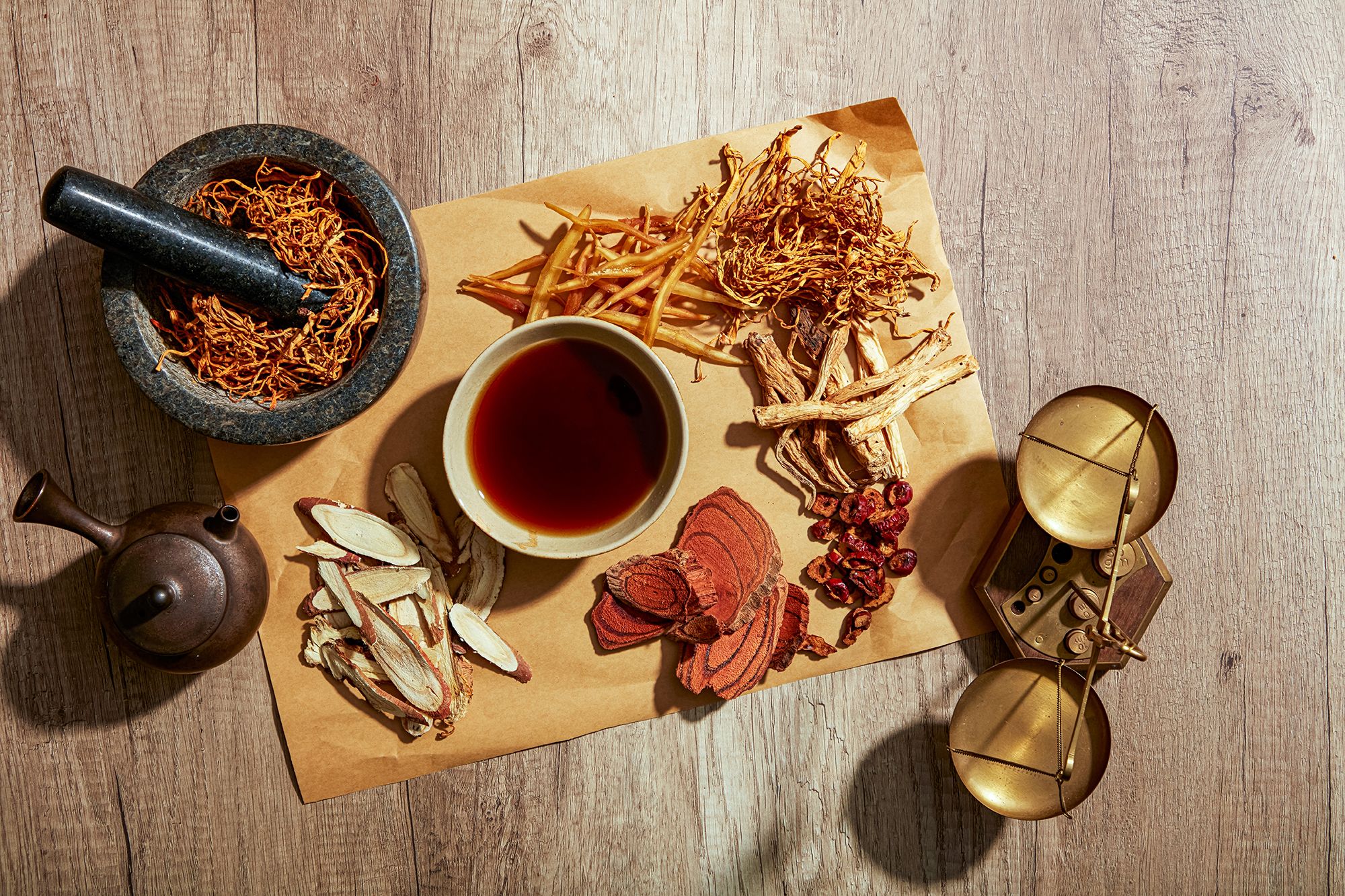 Image credit: Light Stock/Shutterstock.com
In Jamaica, root tonic is touted as a health drink that can enhance strength and vitality. If any of these potential benefits appeal to you, you can try this local favorite made from medicinal plants, herbs, roots, and tree bark during your vacation. Jamaican root tonic, part of Jamaica's ethnomedical heritage, is quite popular with the natives. Based on the fact that it still remains just as popular now despite being around for many years, we'll say it may well be worth a try! While in Jamaica, pick up a few bottles of root tonic for yourself and your loved ones.
16. Leather sandals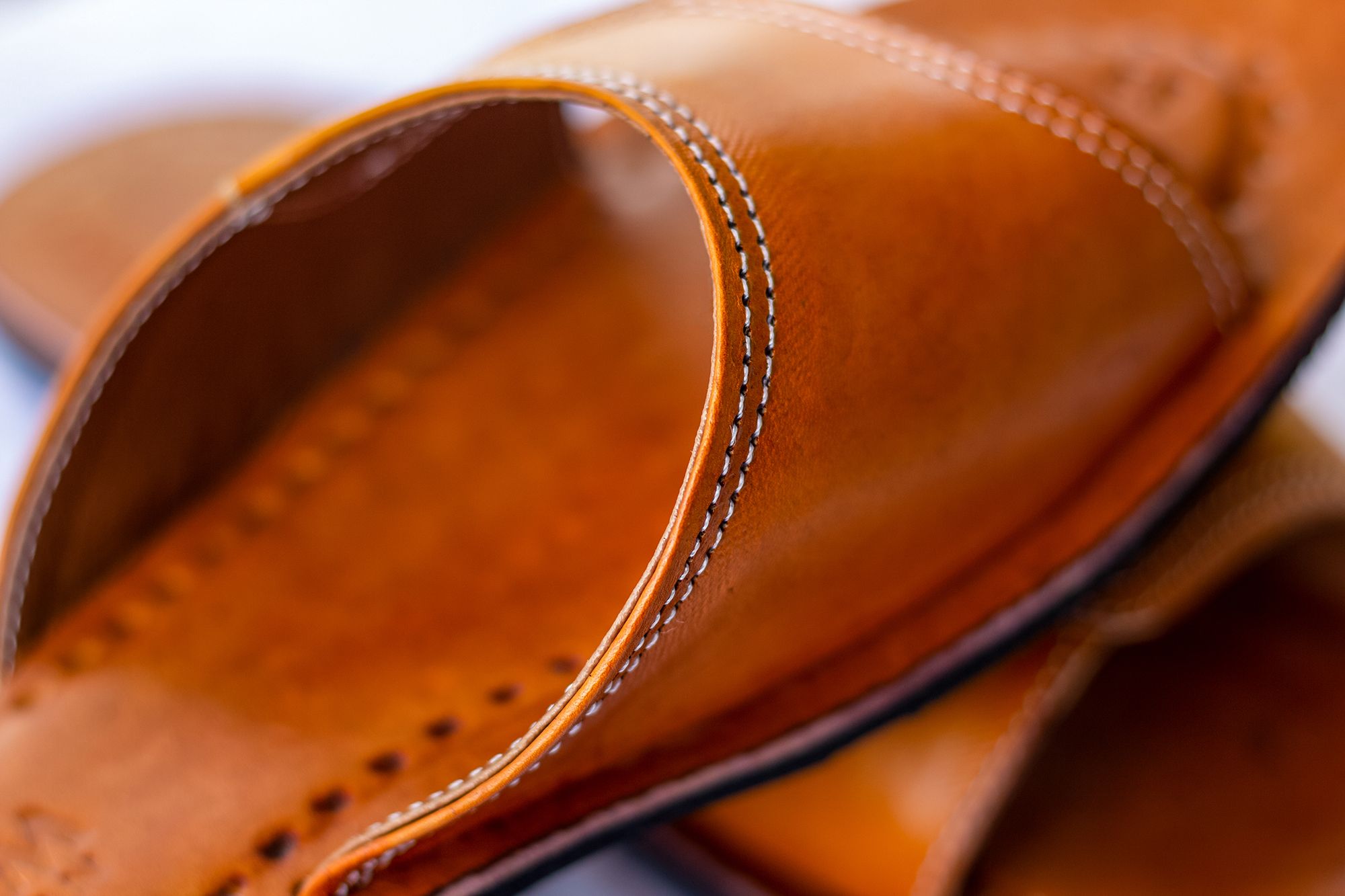 Image credit: ajiilhampratama/Shutterstock.com
A good pair of shoes is something you won't regret purchasing during your vacation. Authentic leather sandals are a great buy no matter where you find them. In Jamaica, you can find quality leather sandals that will last, and you'll have the option to purchase this item either for yourself, a family member, or someone special back home. The leather sandals that are available in Jamaica are made from all-natural materials and come in a variety of styles. You can search for these at gift shops and craft booths in Montego Bay and around the island.
17. Jamaican dolls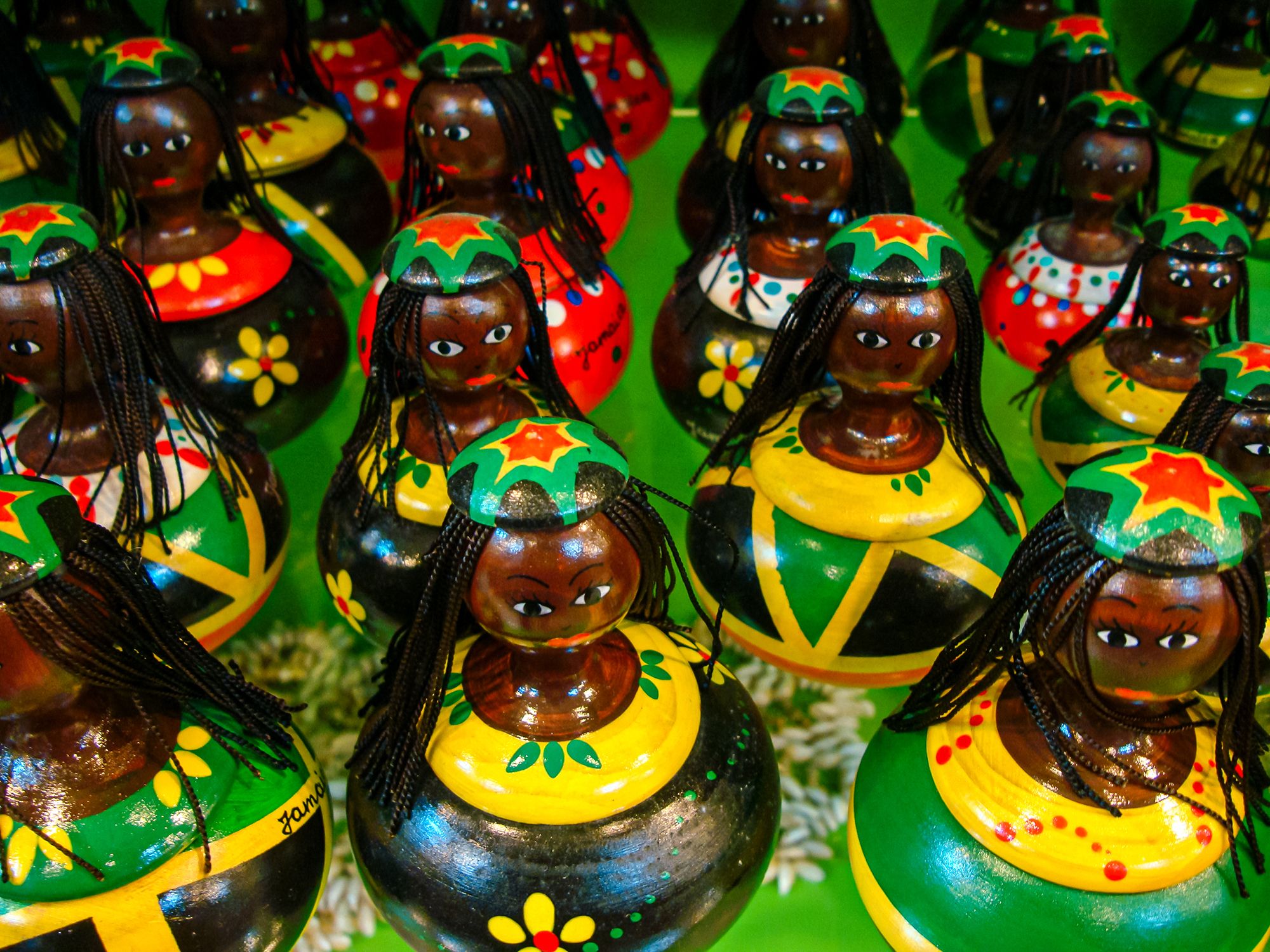 Image credit: Davoud Aghazadeh/Shutterstock.com
A handmade Jamaican stuffed doll can be a wonderful keepsake that embodies part of the island's culture and art. This is a great present for people of all ages, and you can get them at most craft stores. These dolls are created with soft spongy materials or hard plastic. They are typically seen wearing traditional Jamaican attire and sporting contemporary Jamaican hairstyles. Purchasing a Jamaican handmade doll is a true way to take a special part of the island that is reflective of its heritage back home with you.
18. Family memories for years to come!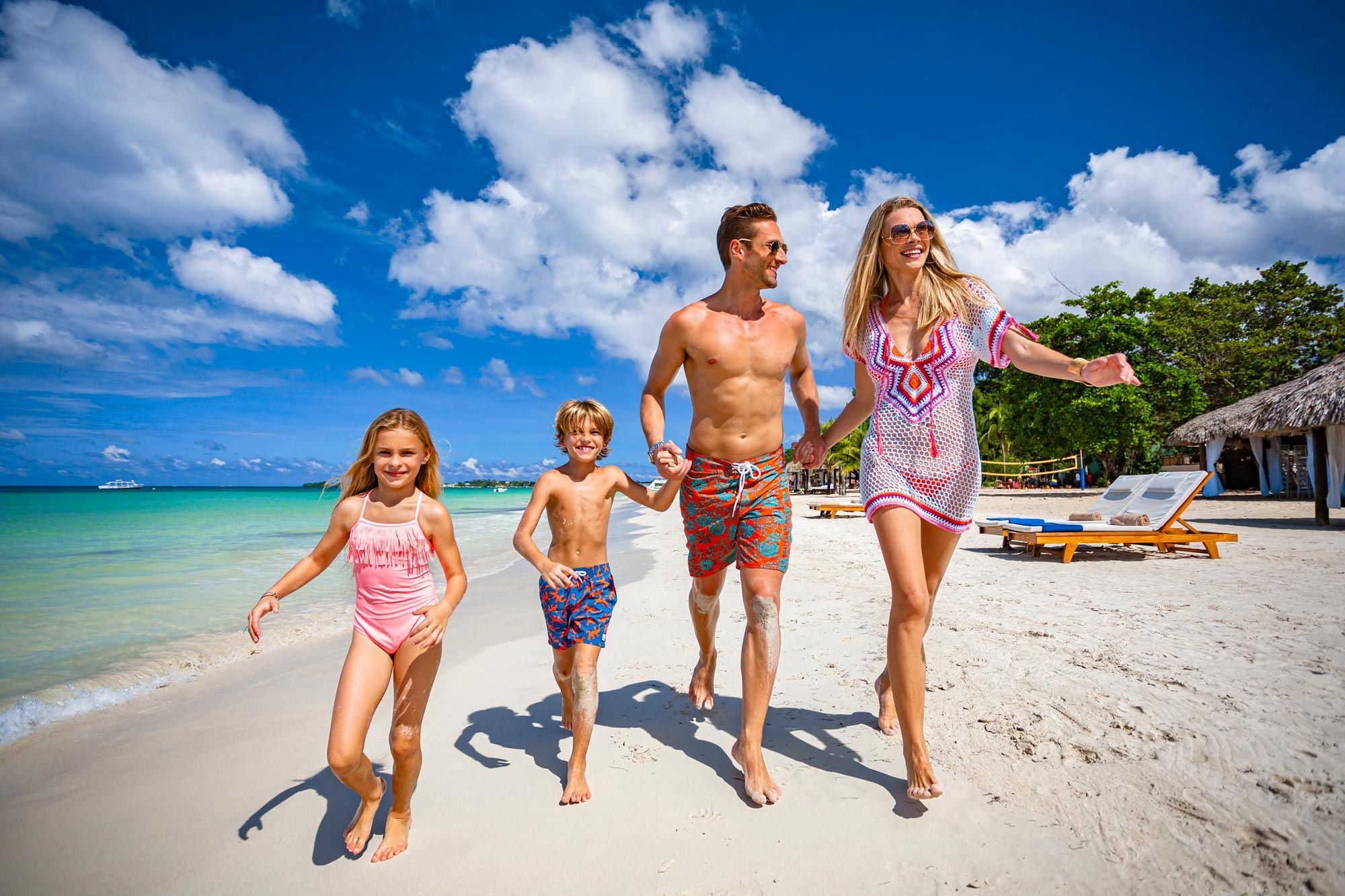 Whether you buy a ton of souvenirs, or none at all, you can take something truly special home with you from Jamaica that won't cost anything at all — the amazing memories you'll make along the way! All the sights, tours, long days at the beach, and your exciting resort experience are things you likely won't forget about this vacation. Even though the moments are priceless, it'll be worth it to take as many photos as you can to relive the experience later!
Where to buy the best souvenirs in Jamaica
Now that you have an idea of the souvenirs available, here are a few places where you can find some of the best souvenirs from Jamaica:
Ocho Rios Craft Market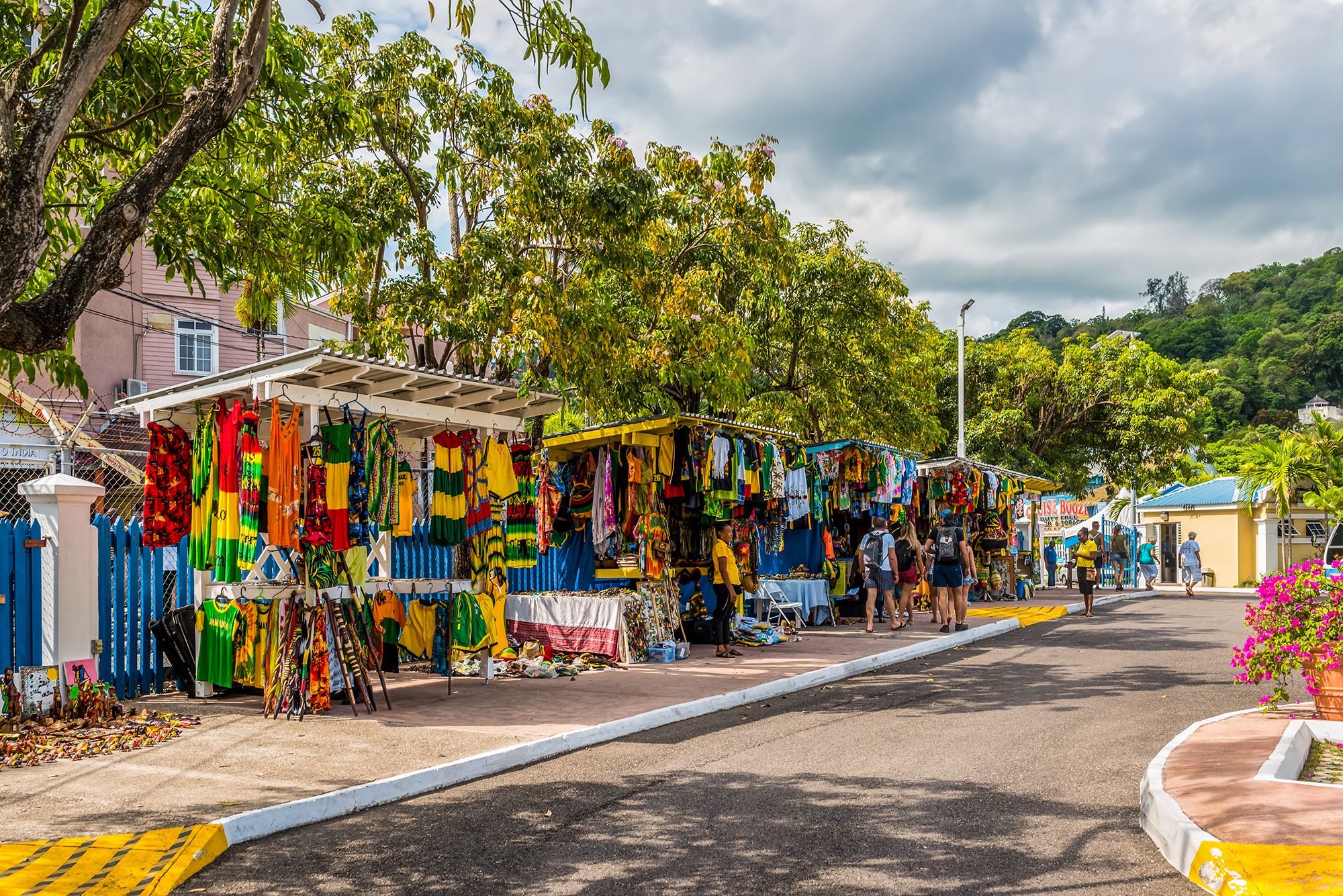 Image credit: byvalet/Shutterstock.com
The local markets are a fantastic option for shopping for souvenirs or artisan goods in Jamaica. There are quite a few craft markets in Jamaica, and the Ocho Rios Craft Market is the largest in Ocho Rios. At this location, you'll find over 100 vendors, which means you'll have loads of options to shop around for Jamaican souvenirs.
Negril Craft Market
The Negril Craft Market is another location worth checking out if you want a variety of souvenirs all in one place. While you'll find quite a few small shops along the Seven Mile Beach selling a variety of souvenirs and other products, the Negril Craft Market, located just off Norman Manley Blvd, houses a collection of vendors selling locally hand-made crafts including wood carvings, baskets, jewelry, and more.
Port Antonio Craft Market
More local crafts and souvenirs can be found at the Port Antonio Craft Market. This small and vibrant market is a great place to enjoy an authentic Jamaican outing while browsing around for souvenirs. Hand-loomed fabrics, embroidery, silk screening, woodcarvings, oil paintings, woven straw goods, and locally made sandals are among the crafts available at this market.
Montego Bay Craft Market
The Montego Bay Craft Market is a convenient option for souvenir shopping as it is located in the heart of the city. This market offers some of the best deals you'll find for authentic souvenirs and keepsakes in Montego Bay. Tours to the various craft markets in Jamaica, including the Montego Bay Craft Market, can be organized through your resort.

Good to know: Ocho Rios resorts and Negril resorts are fun options for a vacation that has a little something for every member of your family. These resorts offer waterparks, spas, and plenty of things to do around the clock!
Top tips for shopping for souvenirs in Jamaica:
Made in China
You might be surprised to find this out, but some of the souvenirs sold on islands including Jamaica are actually made in China or elsewhere. Pay close attention to tags and ask questions to ensure that the item you're interested in was actually made in Jamaica.
Shop around for various options
Purchasing the first things that catch your eye is a sure way to overspend. To avoid this, have an idea of what you want when you go souvenir shopping in Jamaica. If you know what you want, you'll be better able to shop around for that item and other things you're interested in as you can compare prices as you go around exploring the various shops.
Negotiate a fair price
Depending on where you go in Jamaica, some vendors will give you a higher initial price with the expectation that you would bargain. If you don't try to negotiate, you can end up paying more for an item than it's worth. Try to bargain for a better price, especially if you saw the same item somewhere else for less money.
Stop the hassle with a few words
When it comes to making sales, some vendors can be extremely persistent. This is probably because the competition is quite intense for vendors in Jamaica. A simple 'no thank you' should be sufficient if you're really not interested in what is being offered.

Good to know: U.S. dollars are generally accepted in Jamaica, so you can choose to either pay for your souvenirs in USD or pay in the local currency. It can be more convenient to pay in the local currency due to conversion variances and because of the possibility of vendors not having enough change in your currency.
The great Jamaican souvenir hunt: Bringing a taste of the island back with you
Jamaica is a truly fascinating destination, so of course you will want to take something amazing home with you to cherish the memories and share your experience on this island with others. When it comes to selecting the best souvenirs, you'll simply have to decide what feels right to you, and what you think your family and friends will like. To find the best Jamaica souvenirs, you can arrange trips to the various local shopping areas from your all-inclusive Jamaica resort.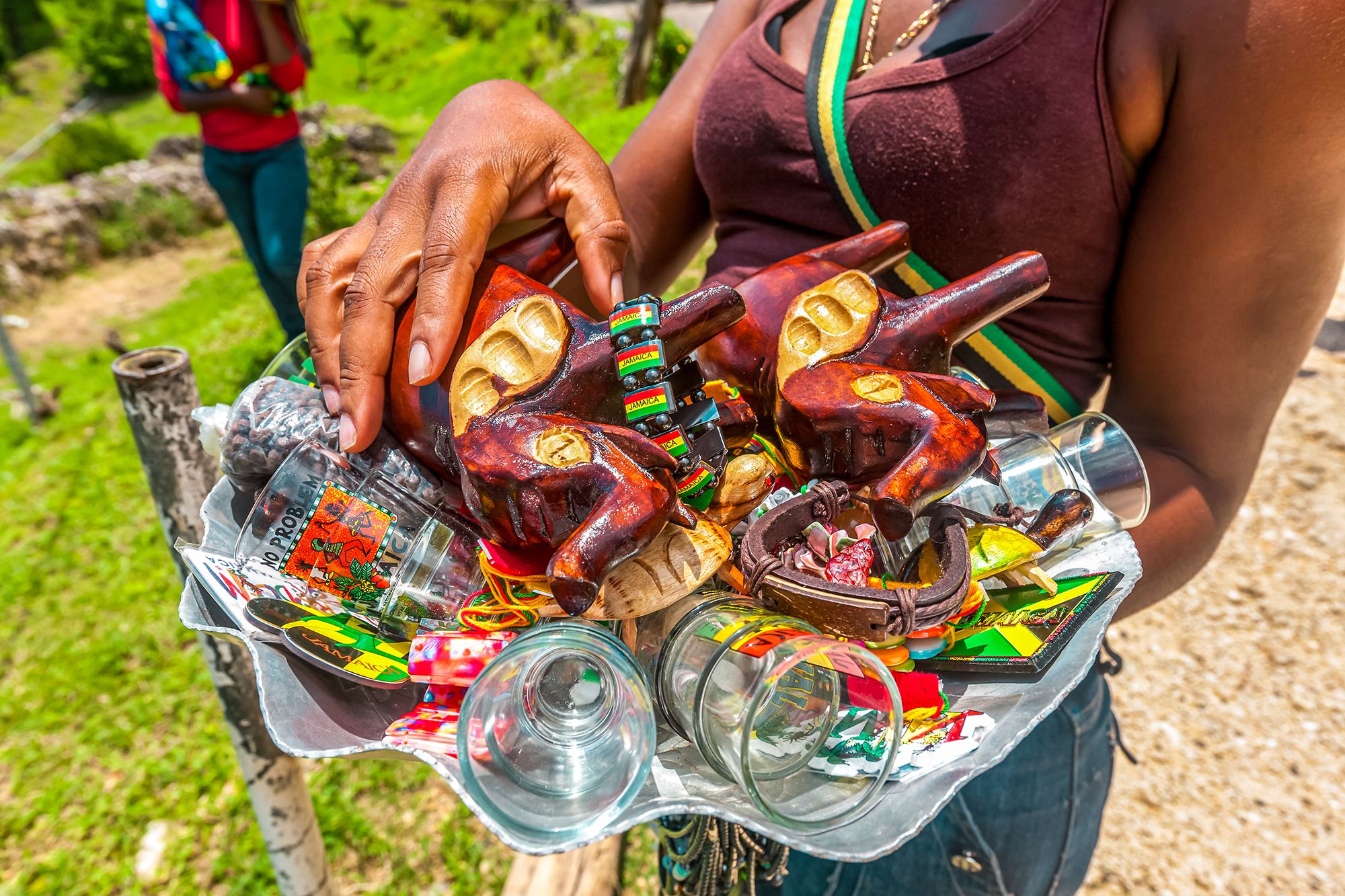 Image credit: True Touch Lifestyle/Shutterstock.com
Whatever you choose, as long as it's authentically Jamaican, it's sure to remind you of all your blissful vacation days spent on this island paradise!